A Suffolk man taking part in World Naked Gardening Day has undergone emergency surgery after suffering an unfortunate accident.
Mr Derek Blythe, 63, from Woodbridge, was pruning his wife's bush with a sharp pair of shears when he slipped and cut off much more than he bargained for.
The retired butcher, renowned locally for his sausage recipe, lay in agony on his back lawn until emergency services arrived to rush him to Ipswich Hospital.
"Let's just say age is not the only reason he won't be having any more children," a hospital spokesman told the Suffolk Gazette.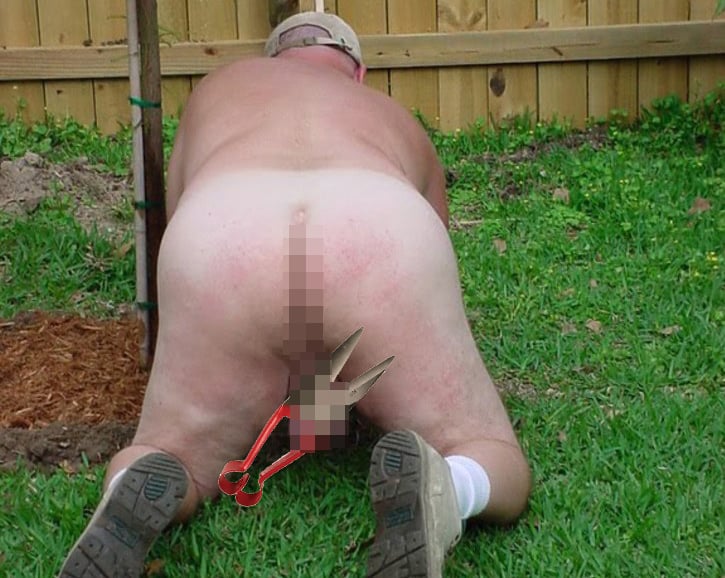 Shear horror: Derek photographed moments before the accident
Neighbour Cheryl Stephens said: "Derek and Jane take part in this World Naked Gardening Day every year. They remind us the day before so we don't accidentally see anything over the garden fence.
"I heard this terrible scream and looked outside. Jane was in pieces – but perhaps Derek more so. I called the ambulance."
Medics expect Derek to be in hospital for two weeks after performing a delicate operation to reattach an important part of his body.
"Fortunately he was a butcher and knows how to keep meat in good condition. So his wife was able to wrap it in ice and bring it with him to the hospital.
"We expect Derek to make a full recovery, although he won't be getting up to much in the garden for a while."
Buy a mug and cheer someone up
The Suffolk Gazette has linked up with Dirty Old Goat to bring you exclusive potty pottery that you can gift to a friend or loved one. Buy below and keep the wheels of fine British journalism turning!