Phew! What a busy few weeks for those of us harvesting our allotments. Our beans went bananas, our spuds are bursting forth, the tomatoes are heading for a glut and our marrows are swelling like a rent boy in an MP's flat.
Not only that but it's time to get in the winter pansies!
[AdSense-A]

Keen gardeners are pickling their beetroot, making jams and chutneys, bottling their gherkins and storing the apples and pears.
In Suffolk, the tractors have been working under floodlights to bring in the crops. I celebrated with a lovely Harvest Festival of sweet and sour pork and egg-fried rice.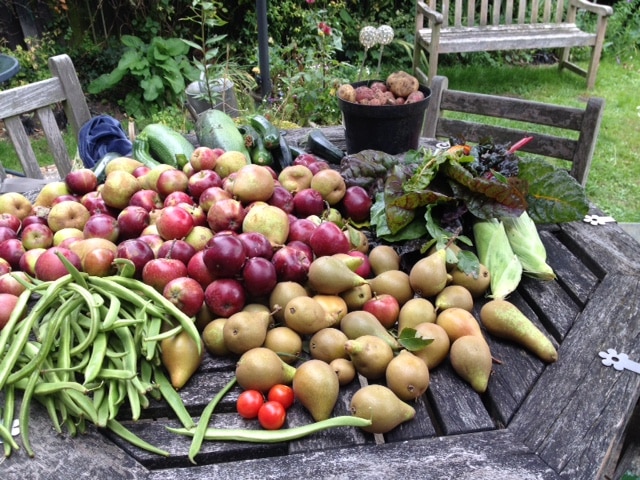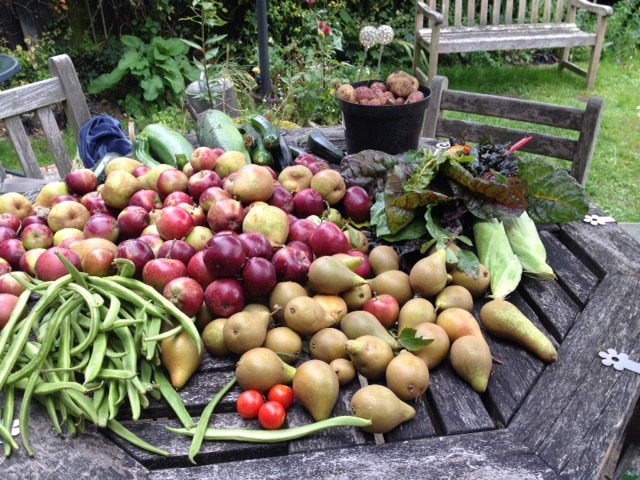 Bountiful: Just look at my harvest
What a time for us to count our blessings! It reminds me of the old belter We Plough the Fields and Scatter, which was set to music in 1800 and is still one of the most performed hymns in the United Kingdom.
Between culling the courgettes and picking the peppers, I rewrote the words to bring it more up to date.
Please sing out loud after a few jars of Adnams, and I'm sure it will be good for your soul. All together now…
We plough the fields and scatter our bottles on the land,
We water our begonias, extended hose in hand.
We get the snow in winter and warmth to swell the grain,
And if we get our hair done, it pisses down with rain.
(Chorus)
All good gifts around us,
from Amazon online,
Oh Thankyou Lord, for all the beer
And all the chilled white wine.
We buy our plants from Wyevale or go to B &Q,
Together with some charcoal lumps, to do our barbecue.
We get the Busy-Lizzies to do the flowerbed,
Then nip along to Tesco… to buy our daily bread.
(Chorus)
We love our ride-on mowers: they cut the grass so good,
Unless we got the Astro Turf to trick the neighbourhood.
We sprinkle round the Weedol, the nettles for to kill,
We thank you for our nights out.. and morning-after pill.
(Chorus, and another beer)
We plough the fields and natter, about last night's TV.
Like Poldark with his scythe out, or her on ITV,
We get the snow in winter, then warmth to swell the grain,
We get a shite hangover, then do it all again.
(Rousing chorus: sing so loud it hurts)
With all these award-winning lyrics, and being kept awake by tractors, I seek your forgiveness, dear readers, for not giving you my usual advice. Or answering your problems.
Apart from this one:
* K V from Leicestershire: your compost heap certainly does seem attention. I would shred some copies of the Sunday Mirror and add it to the mix. Urinating on it, which adds nutrients, might make it all a bit better.
See you soon,
Anita, la la la la la la la la. x x x
Please support my running costs by clicking here and buying me a beer!
[olimometer id=1]