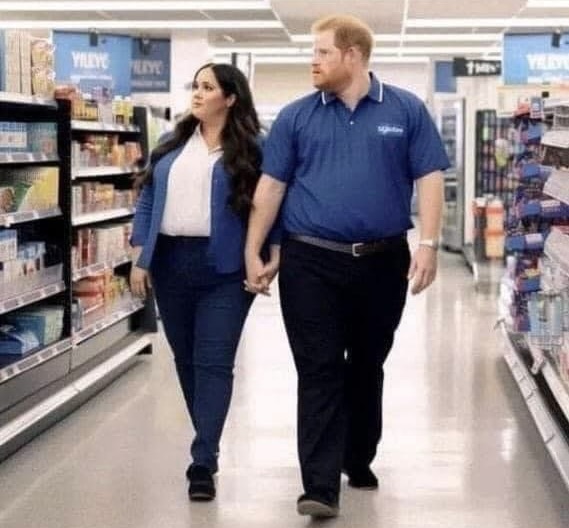 Queen & King of Los Angeles, Meghan & Harry Windsor, have completed their transition from dignified British royalty to US trasherati by putting on 105lb of body fat between them.
Spotted out shopping together in the Burbank branch of Walmart. The two chubby celebrities made straight for the home baking. Aisle to gather up armfuls of Bisquick pancake mix and six family-sized bottles of real Maple syrup. God only knows who was looking after Archie and Lilibet?
Heretofore predilection
Whereas keeping in trim and having a slender appearance is de rigueur in British high society,.Being fat in America is normal. Commenting on 'Hareghan's' new portly image,.some US celebrity watchers have expressed surprise at their willingness to so happily blend in with US 'fat culture',.characterizing the move as a major departure from their heretofore predilection for standing out from the crowd. Other commentators say that 'comfort eating' is the real cause of the 'popular' couple's extraordinary weight gain.
One shopper who witnessed the royal(ish) supermarket sweep, said,.Referring to Meghan's new image "'Fat' is not really the right word. I would say she looked more 'dumpy', 'calorific', or just 'heavy.'".Harry's appearance was variously described by other shoppers as 'blubbery', 'suety', 'king sized', and 'double-chinned'.
With half of Megharry scheduled to attend King Charles III's coronation ceremony in London on May 6th,.concerns have been raised about Harry's weight precluding him from riding a cock horse in the heraldic-heavy pageant. Aides to the King (of Los Angeles) fear that he may not be able to play a full part in the parade,.despite him not actually believing in royalty, except for where it applies to his, his wife's, and his children's titles.
Fit for a King & Queen (of Los Angeles)
Bisquick is a pre-mixed baking mix consisting of flour,.shortening, salt, sugar, and baking powder ideal for quickly preparing things like pancakes,.American-style biscuits, and diner-style muffins – basically, all the stuff that will make you look like a fat American – just like Meghan & Harry.