By Mary Gold, Gardening Correspondent
Specialists have been deployed in Suffolk to put the brakes on angry gardeners with power tools devastating the county's hedgerows.
For weeks, garden centres have been warning Covid-19 restrictions have let loose 'the inner beast' of normally law-abiding gardeners with chainsaws and hedge cutters.
Yet, authorities are accused of ignoring warnings from locked-down nursery owners as power-tool attacks on their shrubs have left their replacement hedge plants completely destroyed.
One owner, Lorraine 'Fuschia' Fisher, 34 – owner of Rattlesden Tea Room and garden centre, awoke to find her entire stock of Privet, Blackthorn and Berberis cut off an inch above their nursery beds.
"I must have been raided in the middle of the night," said Ms Fisher. "It was an appalling sight. Bits of plants scattered everywhere. I am devastated."
Further reports suggest road-side hedges across the county have been randomly lopped off.
Ms Fisher, visibly choking back tears, said she had warned the powers-that-be in both the council and the police that bored gardeners under the Covid lockdown had "run out of their own hedges to ruin" but her appeals fell upon deaf ears.
This was a claim robustly denied by head of Suffolk Constabulary's Flora Protection Squad.
Insp Gary Clematis said: "I can confirm we have had many reports of wanna-be tree surgeons taking advantage of the circumstances to attack innocent hedges. These belong to all of us and frustration at having destroyed your own hedges simply because you are bored is no excuse."
Under pressure, Insp Clematis confirmed he had, with clearance from the home office, called in specialist help.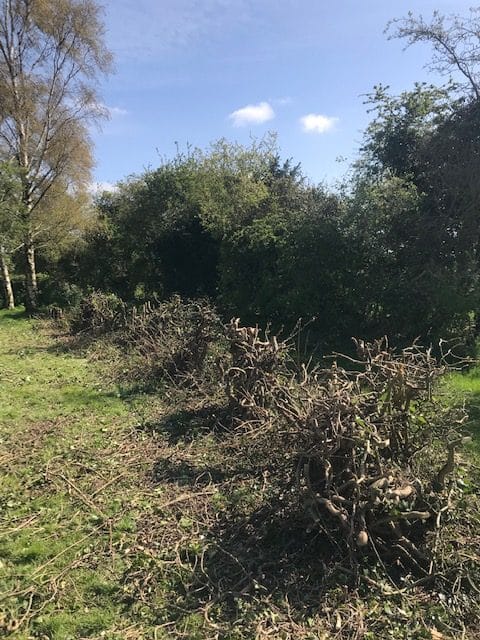 The Suffolk Gazette understands this 'help' is a shady organisation dubbed the Suffolk Arborialist Society (SAS).
Lloyd Leylandii, C(E)O of the SAS, would not confirm or deny they had been deployed. In a statement, however, he did outline the operational parameters of the so-called 'Stormtroopers of Hedgerow Security'.
"What citizens do with their power-tools in their own gardens is a matter for them. However, during the Covid-19 lockdown we have been made aware of many instances of "Hedge Rage" where householders lack the patience for their own over-trimmed flora to regrow before they can be attacked again.
"Our operators are highly trained in covert techniques to prevent random outbreaks of hedge rage and you may be assured we have a long and glorious history of doing so."
Don't buy a chainsaw, buy a mug
We've linked up with dirtyoldgoat.com to supply funny mugs to our readers. Here are some current potty pottery offerings, but there are more on the site.