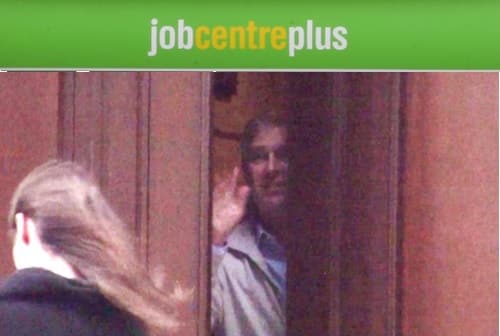 Tongues were wagging in Windsor today when a friendly mystery man turned up at the job centre.
The dashing gentleman was very polite and was even seen waving at a pretty passing blonde woman from behind the job centre door.
Our exclusive photograph shows the job-seeker earlier today. He seemed a little worried about being spotted.
Even though he is unemployed and presumably short of cash, the man left the job centre and popped into the Pizza Express next door.
He sprinted inside, but must be fit as he didn't even break into a sweat.
Unemployed Lorraine Fisher, 34, said: "I was at my appointment at the Jobcentre Plus when this man came in.
"He was very polite but clearly had no idea what he was doing. I don't think he's been unemployed for long.
"At one point he began waving at women from behind the door. Perhaps he's just lonely."
More news as we get it.