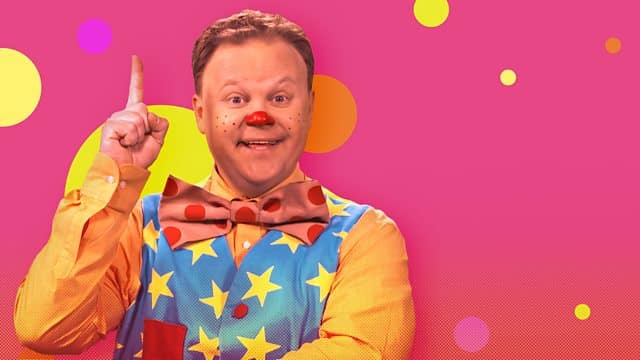 The internet was awash with rumours today that BBC children's favourite Mr Tumble is the secretive street artist Banksy.
After Art Attack presenter Neil Buchanan was forced to deny claims he was the famous artist, attention has now turned to the CBeebies star.
Famous for his colourful clothes and hilarious antics, Mr Tumble has twice been spotted close to new wall murals accredited to Banksy.
He has so far refused to deny he is the elusive graffiti artist, said to be worth £38 million.
BBC insiders now believe the Neil Buchanan story was because journalists added two and two together and made five.
Programmer Lorraine Fisher, 34, said: "It seems that a BBC children's presenter is indeed the man behind the Banksy phenomenon.
"People started investigating and wrongly assumed it was Neil Buchanan because he has presented Art Attack. The connection seemed plausible.
"But all along it seems the real Banksy is in fact Mr Tumble from the studio next door."
Mr Tumble, real name Justin Fletcher, or "Banksy" to his friends, is known to be an excellent artist and satirist, both hallmarks of Banksy's work.
Buy a mug. This is not a drill. Buy a mug
Would you like to get some early Christmas shopping in the bag, or buy a treat for yourself? Buy a mug from Suffolk Gazette partner Dirty Old Goat, or click on the mug of your dreams below…