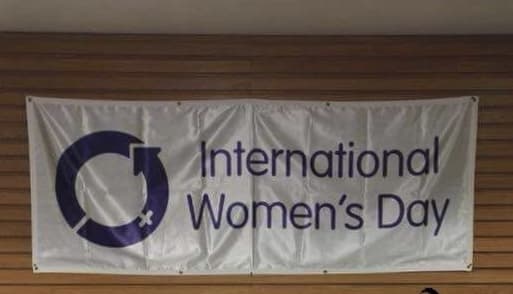 A man has been hounded out of Suffolk after suggesting an International Women's Day banner should have been ironed first.
"This is what happens when women get ideas above their station," said sexist dinosaur Steve Walshe, 43.
He was overheard making the remark and asked to leave the office building – and the county, for that matter.
Organiser Lorraine Fisher, 34, from Woodbridge in Suffolk, said the banner, prepared for International Women's Day this Friday, was fine and got the message across perfectly well.
"Only a man could look at the banner and think, 'That needs a good ironing'.
"I'm afraid Mr Walshe is just the sort of sexist pig that has contributed to gender inequality across the world.
"The banner was put up in our office as a show of support, and we won't stand by letting men make cheap jokes out of it."
International Women's Day could have ironed it
Far from cashing in by using the banner photograph, the Suffolk Gazette publishes it only to ensure everyone agrees the ironing joke was a step too far.
A spokesperson for the newspaper said: "The Suffolk Gazette is a huge supporter of International Women's Day.
"Only yesterday we announced that all women will be able to read the publication for free for a month."
Mr Walshe said he wasn't being sexist when he made 'International Women's Day could have ironed it' remark earlier today.
"It is correct to say that the banner could have done with an iron. But my statement was gender neutral – it was aimed at men just as much as women.
"Honest."