By Doug Trench, Defence Editor
The Suffolk Liberation Front today updates residents on recent front-line engagements, including the annexing of Great Yarmouth from Norfolk, and some unfortunate skirmishes around Diss.
The SLF news update is printed in full below. As usual we do so under threats and duress, especially as they now seem to know where the Suffolk Gazette editor lives.
"Sir,
Happy new year from the Suffolk Liberation Front; to you, our supporters and fighters.
Our Christmas ceasefire managed to shake a few Norfolk Resistance Army members from the tree of the swamplands of Norfolk. We neutralised many of these people.
On New Year's Eve, under cover of the fireworks display, we staged many incursions into Norfolk and we have now annexed Great Yarmouth. I sneaked behind the lines on Friday and nearly got caught by units of the NRA, but I escaped with vital intelligence about Yarmouth. We now hold Norfolk's premier port.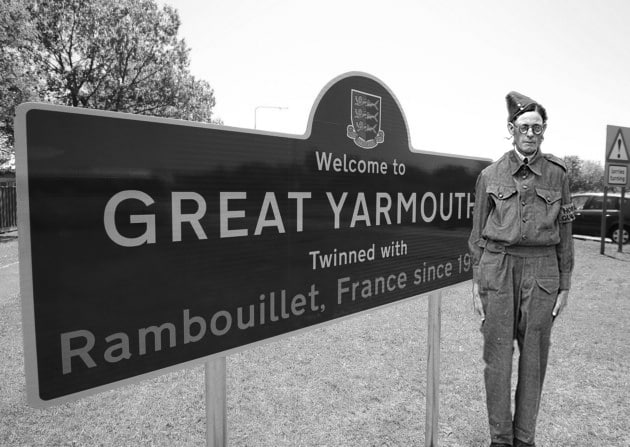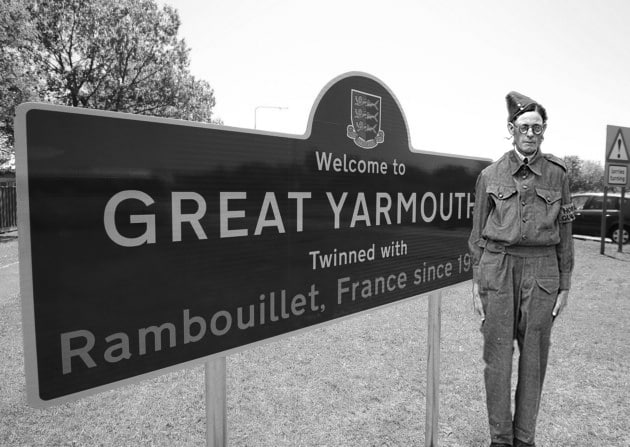 A member of the victorious SLF poses by the Great Yarmouth road sign
There were reports of increased fighting in Diss, which we had encircled and captured many weeks ago. According to one Norfolk agitator, we "stormed Diss Golf Club". We didn't actually do this. In fact, members of the brave Suffolk Young Farmers went there for their Christmas do and found out-of-date pork scratchings that could have poisoned innocent people. Heroically, they destroyed them all.
There were also reports that we switched the heating down at Diss swimming pool. But this wasn't to hurt the residents, rather a Norfolk oik had been sick in the pool and it had to cleared quickly.
One man couldn't get his 13 fingers on to the pool ladder quick enough, and we just about managed to save him. Under United Nations humanitarian terms, we returned him to Cromer where he is being cared for by his sister and mother (who seemed to our escort to be one and the same person).
There were reports of a gun battle in Diss. We admit that units of the NRA did attack us there, but we beat them back and many prisoners are being held at the abandoned RAF Bawdsey base. The prisoners are being forced to rebuild the base after Norfolk simpletons stripped it of scrap metal.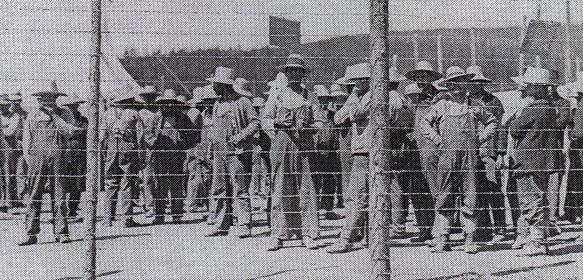 Norfolk prisoners of war in traditional dress at RAF Bawdsey
We remain dedicated to Suffolk and fully intend to annexe Colchester in the near future. We will amalgamate the three football clubs, Colchester United, Ipswich Town and Norwich City, taking all assets for Colchester United and creating a super team to take the Premiership title in a few years.
We recognise that the residents of Norfolk need a crap football team to follow, so we will let them have a local team called Colchester United Norfolk Team Squad.
We have some big plans for 2017, including a scorched earth policy for some of Norfolk, which will ultimately benefit the Suffolk economy as the displaced Norfolk residents will willingly work in Suffolk for food and shelter, thereby allowing us to say we aren't holding slaves.
'Razor wire'
We plan on full devolution soon and will likely have a Declaration of Independence. Suffolk passports will only be issued to known Suffolk residents and friends.
Please publish our newsletter as then we won't have to visit the Suffolk Gazette HQ of The Greyhound pub and ask why you haven't. If we have to do so, we may decide to use The Greyhound during our operation to surround Ipswich with razor wire and use it as an internment camp.
Due to many people pleading with us, we agree to keep East Ipswich as part of Suffolk still, as we know the editor of the Suffolk Gazette lives there and we want him to keep publishing our stories. We hope this stays as it is and that we don't have to annex him….
Sincerely,
Commanding Officer,
Suffolk Liberation Front"