By Hugh Dunnett
The Foreign Office has warned British holidaymakers not to travel to Haverhill because of a growing threat of disappointment.
Officials have also begun a mass evacuation of those currently stuck in the Suffolk town, putting on a fleet of taxis to take them home.
Although once a settlement around at the time of the Domesday book, Haverhill was identified as a London overspill town in the 1960s.
And now it has little in common with the neighbouring sleepy towns of Suffolk, like Bury St Edmunds and Lavenham.
Government officials have recognised disappointment for British tourists is "highly likely" and they have ordered them all to leave.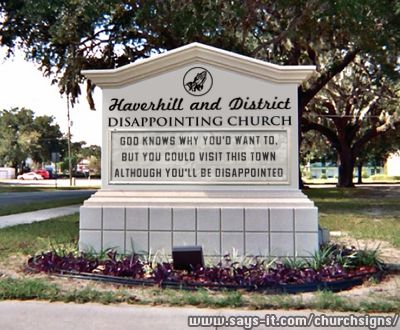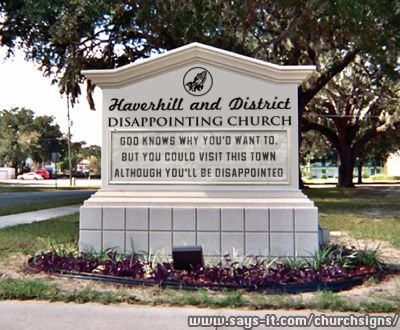 Even the local church admits to disappointment issues
A Foreign Office spokesman said: "Haverhill was once a great place to visit for curious tourists who wanted to try somewhere a little different.
"But new information from our security services indicate we can no longer guarantee a lack of disappointment.
"For this reason alone, we are ordering everyone to leave, and go to the coast instead, where the likes of Aldebrugh, Orford or Southwold are waiting."
However, holidaymakers heading instead to Aldeburgh and Southwold were warned to avoid the police tanks parked at the entrances to the towns to keep the commoners away.
It is thought there are currently 27 British holidaymakers stuck in Haverhill, mostly staying in the town's bed and breakfasts. Officials were today desperately trying to contact them and reassure relatives they were safe.
Haverhill businesses who rely on visitors were furious at the Foreign Office.
"This is just giving in to the moaners," said Baz Cockney, who runs a pie and mash cafe in the town centre. "We are not in the least bit disappointing, guv'nor."
Facebook it: