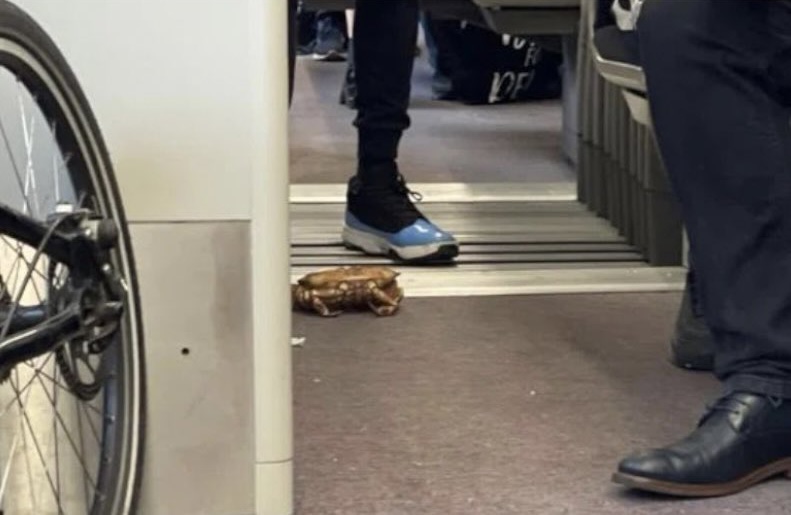 Members of an underground militia known as the Crustacean Liberation Army have freed a crab from an Ipswich Fishmonger's shop.
In a statement released on its Twitter account, the Crustacean Liberation Army announced that "We have struck a blow against the oppressive corporate fishmongers of the world by releasing 'Bob Hope', the 'Freedom crab' back into his natural environment of the North Sea coast of Suffolk. Let the message go out to all imprisoned political crustaceans that… freedom is coming!"
Crab sticks it to the man
The mission to release Bob Hope began when members of the Crustacean Liberation Army visited Wally Perkis's Fishmongers in Ipswich. In a daring and audacious act of retail transacting, the hoodied militia purchased a pot of mixed shellfish – the contents of which were already dead – and ate them up. Then, asking the monger if he had any live crab, they took what they were offered – a tired and forlorn-looking brown crab which they later named 'Bob Hope' and made their escape.
Crustacean Liberation Army showed Mercy
Bob's long walk to freedom began when the Crustacean Liberation Army boarded the train from Ipswich to Lowestoft, and allowed him to walk freely along the carriage to stretch his legs and claws, and meet other commuters.
Amid scenes of great jubilation, Bob was eventually released into a rock pool on Lowestoft beach at dusk on 12th December 2022, a day that will live long in Crustacean Liberation Army folklore.
Seafood and eat it
Reports that legendary Lowestoft Seagull '73' was spotted swooping into the sea close to the release site before flying off with something in his bill are unconfirmed.