Britain's oldest school caretaker has been suspended after accidentally dyeing a whole class of young children blue.
Norman Fletcher, 87, who staff feared had been getting increasingly "doddery", got chemicals for the Little Brimmer Primary School swimming pool mixed up with powdered blue paint.
Far from making the indoor pool water cleaner, his mistake turned it into a huge paint pot.
And when the class of excited eight-year-old kids jumped in for their afternoon swimming lesson, they surfaced looking like a group of startled smurfs.
They were immediately hauled out of the water, but the colour would not rinse off in the showers.
As a precaution, the children were taken to the Little Brimmer Medical Centre, where the receptionist annoyed teachers by asking: "Where are you all coming from?"
Doctors said nobody's health was at risk, and worried parents were told the paint should fade away before Easter.
A sign at the school gates warns the swimming pool will be closed for the foreseeable future.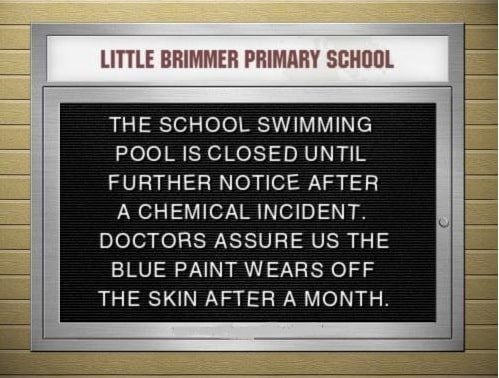 Mum Lorraine Fisher, 34, said: "We all like Mr Fletcher. The old boy has been part of school life here for over 60 years, but we feel the work is getting a bit too much for him.
"My daughter thinks it's funny being blue, and she'll certainly looks a little odd over the next few weeks, but it could have been worse.
"What if Mr Fletcher had got rat poison mixed up instead of paint? At least the worst of it now is the kids look like smurfs."
Headmaster James Peat said in a statement: "We are taking this very seriously, and Mr Fletcher has been suspended pending further inquiries.
"He has served the school loyally, and we know he loves his job, but at 87 years old it is probably time for him to hang up his mop."
Mr Fletcher, who had mistaken the paint for chemicals when he visited Little Brimmer's local shop to stock up on school supplies, was too upset to talk to the Suffolk Gazette.