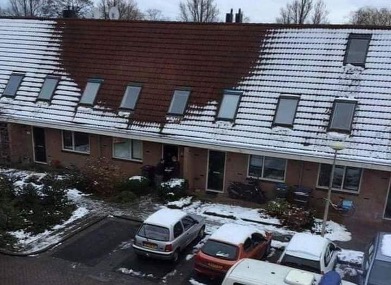 Poverty-stricken terracers in a scummy street in Felixstowe have rounded on a previously anonymous lottery winner after discovering that their lucky neighbour can now afford to switch on her central heating.
Vicious Cul De Sac
Jealous neighbours of lottery winner (everybody needs good neighbours) in Tomline Road, Felixstowe have rounded on retired nurse, Patty Richardson, 74 whom they claim is refusing to share her heat with them.
As the 'cost of living crisis heaping endless severe trauma everywhere right now' (C.O.L.C.H.E.S.T.E.R.) bites, the formerly friendly group of residents of the untidy residential cul de sac, have turned on one another like a vicious pack of shivering coyotes.
Things have got so bad in the street (it's a road but street sounds better) that one resident, ice cream vendor/van driver Graham Butler, has started a petition to have the harmless, lovely old deary stripped of her fortune and have it re-distributed between the other residents – including him.
Big Wobbly Bag of Fat
The Suffolk Gazette caught up with an unshaven Butler as he filled up his Mr Whippy dispensing machine from a big wobbly bag of fat.
"Yeah, Patty. Greedy bitch. Why should she be able to keep warm when the rest of us are working hard selling ice cream, or trading on market place, or buying and selling fake antiques?
We're all skint around here and there she is, turning on her heating and rubbing our cold faces in it. She's got her rads on full twenty-four seven. You can see the hot steam coming out of her kitchen flu. It's out of order."
Pressed further as to why he and the other residents thought friendly Patty had done something wrong, the begrudging lard-ass replied "We all do the lottery around here.
We had an agreement between us – including that old bag, Patty – that if no-one won – no-one would win. And now she's gone and won.
It's wrong and we want our share of what's rightly hers, I mean ours."
Stick in the Snow
We tried to speak to kindly Patty but she was too terrified to open her front door, so we agreed to write our questions with a stick in the snow on her front garden as she looked out of the window.
She replied by spelling her answers in the steam on the windows caused by the intense heat inside her pretty little terraced chalet.
Some of her words were written back to front but it went something like this…
SG: Are you scared?
PR: .seY
SG: How much did you win?
PR: Six million.
SG: Have you got your heating on full?
PR: .seY
SG: Have you got a message for your neighbours (with a little understanding)
PR: .seY
SG: What is it?
PR: Kiss my warm, hot, sweaty, retired esra.