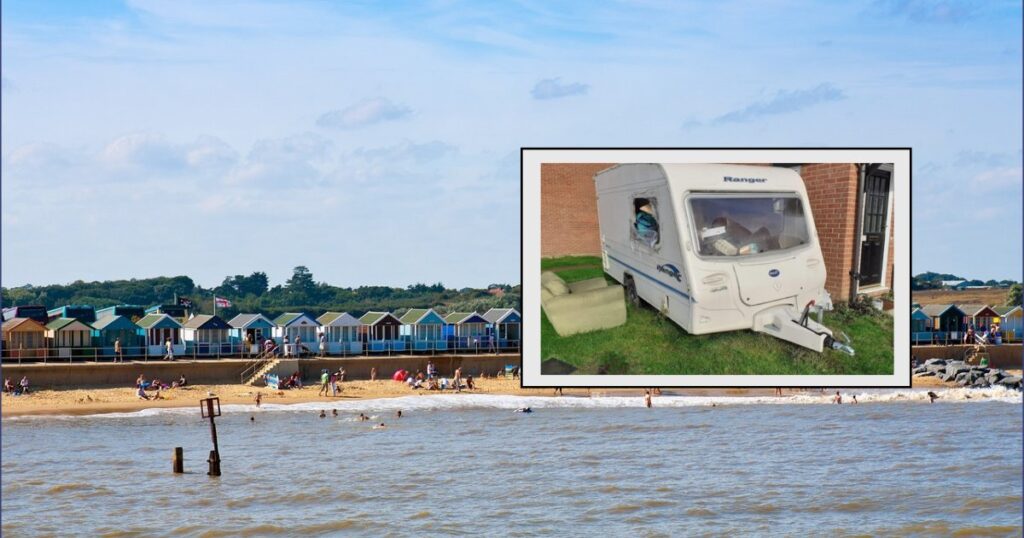 A new local business 'Shittest holidays Imaginable' is offering discounts on some fantastic Suffolk staycation destinations.
One stunning holiday that caught the eye of Suffolk Gazette's tourism expert, Suzanna Robinson is being advertised as 'Make staying at home feel like going away! – Felixstowe. £75 p/night.'
Suzanna says "It's my job to check out all the current and upcoming tourism trends, Suffolk staycations and this one really got me excited. I was never really sure about caravanning holidays. Especially in the UK due to the confined spaces, the smell of the plastic windows in hot weather, and the blocked toilets etc. But when I saw what was on offer from this Felixstowe agency, all my reservations melted away."
The ad describes the seaside staycation, available from November 5th as follows…
Your home from home
Why not spend your holidays relaxing, sunbathing, and dining in style in sunny Felixstowe? For only £75 p/night, you will have access to a dilapidated, old Lighweight Bailey Ranger Six Berth Caravan. Pitched up on-site in our lovely overgrown front garden.
The fibreglass exterior of this deluxe, spacious tourer is dented, cracked and burnt in places. It is missing 3 out of the 4 original windows and there is some minor staining on the door where our Staffs urinate on the step.
The wheels have sunk into the lawn and are tangled with beautiful Dandelions and other weeds. All of the exterior lights are broken.
The full-length awning is faded and ripped and the underskirt could do with a jet wash.
literally outside our home!
The electric hook up was working last time I checked, although I think one of the Staffs has been chewing it so I'll have to check that. The hitch and wheel lock are long since seized up, totally f*cked.
Inside, there is a large double bed (missing springs), bunk beds (no mattresses and missing ladder) and a dinette (badly stained).
There is a Freesat box and satellite dish but it isn't working.
There are two empty gas bottles.
Since we listed as Suffolk staycation destination a few weeks ago, a leak from the locker was noticed and also some rot on the kitchen shelving.
The leak has been fixed and my brother says he plans to have the shelf replaced by then end of next week – provided he is let out on bail.
Unfortunately, since we haven't been using the van of late, we have tended to throw our rubbish into it. So be warned, it is completely full of rubbish.
There is a nice upholstered armchair on the lawn for relaxing and sunbathing but probably best to bring your own cushion.
Everything else fine.
Suffolk staycation 'MAIN FEATURES'
Centre drawers (inc. take-away menus / some mouse droppings)
Pull over table (chipped and stained)
Centre kitchen with four-ring hob, grill and oven (scratched, greasy. Generally filthy. Doesn't work – see take-away menus)
Sink (missing plug) with mixer tap (jammed / no water supply)
Side dinette which converts into bunks beds (don't ask)
Washroom with cassette toilet (unspeakable)
Vanity sink and shower (neighbours cat lives in here)
Other special features: wardrobe (rickety / no door), heki skylight (covered in moss, gravel and bird shit), gas/electric heater (nope), blown air heating (no way), hot and cold water, blinds (broken) and flyscreens"