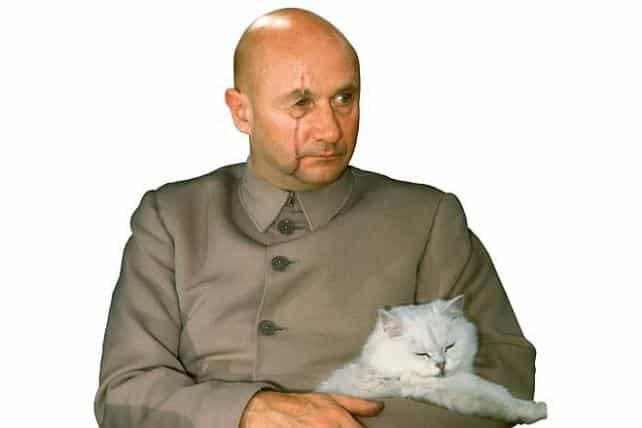 Henry Blofeld has revealed he is retiring from cricket commentary to concentrate on being a James Bond supervillain.
The broadcasting legend says it has become increasingly difficult to juggle his two careers, and one has to go.
[AdSense-A]
Blofeld said: "One minute I am describing eloquently how Joe Root has dispatched a loose offside ball for four – the next I have to deal with a British agent trying to blow up my global crime syndicate headquarters.
"I'm 77 years old now, and there's a danger I could mix up the two jobs. Imagine the outcry if I began waffling on about James Bond's batting average – or if I had Jonny Bairstow fed to a pool of sharks at SPECTRE HQ for disobeying my orders.
"To be honest it's getting harder to differentiate stroking the ball through the covers, and stroking the white cat on my lap."
[AdSense-B]
Blofeld has been a mainstay of BBC Test Match Special for 45 years, becoming a national treasure for his whimsy commentary.
He was awarded the OBE in 2003 for services to broadcasting – an honour that was withdrawn once his alter-ego as a James Bond villain had been revealed.
Blofeld retires
Blofeld will commentate on his latest Test Match in September.
"You haven't heard my final 'My Dear Old Thing' quite yet. Happily, I shall be commentating next month on the first two Tests against South Africa, and then for the last one of the summer against the West Indies at Lord's.
"I leave, supremely confident that TMS is in the safest of hands, led by the ageless Aggers (Jonathan Agnew). In the end, I think he will come to be seen as the best of the lot."
His famous commentary quotes include memorable lines such as: "It's a catch he would have caught 99 times times out of 1,000," or: "If the tension here was a block of Cheddar cheese, you could cut it with a knife."
Join our witty Suffolk Gazette Facebook page community.