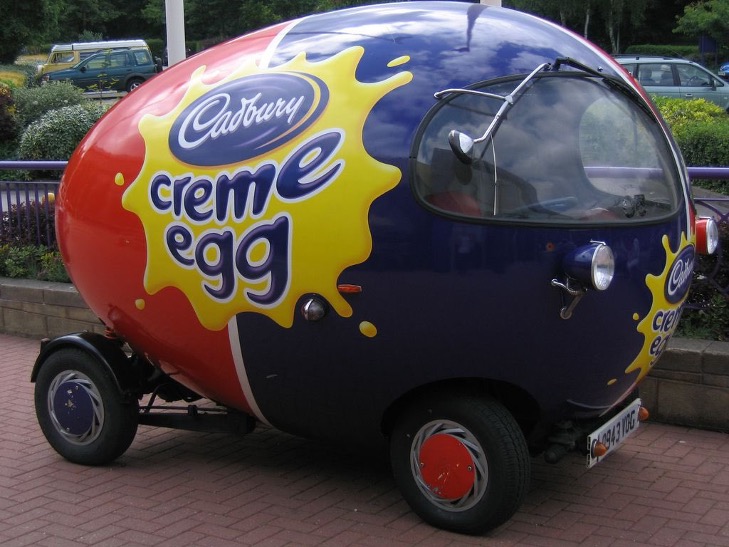 'Proper Charlie' and the chocolate factory. How do you eat yours? For Toby Jewel, the man who stole 200,000 Cadbury Creme Eggs, the answer is – 'in jail'.
Labelled 'Willy Wanker', Jewel, 32 of Eastbridge, East Suffolk, pinched the delicious Cadbury Creme Eggs and other yummy goods from a nearby chocolate factory where he had previously worked as a forklift truck driver.
Using a forklift to smash through the wall of the warehouse storing the chocolate treats, the sour-spirited 'anti-Willy Wonka' gluttonously nabbed the goods which were destined for shop shelves and excitable sweet-toothed children.
Plan foiled
Attempting afterward to make his getaway in a 'Cadbury-creme-egg-mobile' advertising vehicle that he also stole from the premises, Jewel led police on a high-speed chase along the A1120 before he was finally stopped and arrested on suspicion of theft. The vehicle was found to contain £31,000 worth of creme eggs and other chocolate products.
Proper Charlie
In court, presiding judge, Lord Justice Marmaduke Rassie-Farquharson VII, described, serial-felon, Jewel as a 'proper Charlie' for attempting to escape in a vehicle that not only was he not entitled to drive, but which so clearly drew attention to himself as he drove at speed along the motorway.
Before being sentenced to 18 months in prison, Jewel had pleaded guilty to theft, criminal damage, and driving a Cadbury creme egg without insurance.