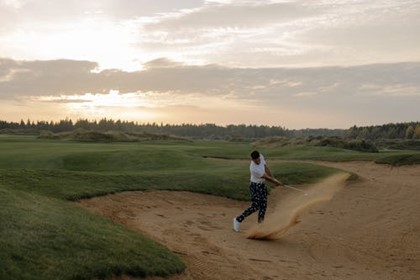 Although the game of golf has been a relevant sport for hundreds of years, clubs across the country have reported seeing a sudden increase in new players, suggesting a resurgence in popularity. With this increase comes new trends on the golf course that we've been seeing take place in 2022. Here we'll tell you what trends we expect to stick around in 2023!
Fashion
The rise of fashion-forward golf attire is one of the most significant changes that won't go out of style anytime soon. With many people preferring athleisure wear more than ever, golf wear is no longer limited to country clubs and instead incorporates street and work wear designs.
Consumers want athletic yet chic and casual clothing that mixes function and style. You can shop for quality apparel and gear online at sites like Stitchgolf.com and get it delivered to your door. Chic golf style means you can look the part at the office and on the course.
Covid-19 Regulations
So far, we've already seen changes in how clubs operate as we all learn to navigate the world through a global pandemic. Businesses everywhere have adopted safety guidelines to meet new cleanliness standards to help their patrons feel safe.
While golf has the advantage of being played outside, clubs are no exception. We predict that the days of contactless pay, sanitizing stations, and digital score cards are here to stay.
More Women and Younger Golfers
Another notable change in golf is the consistent growth in participation of female and young golfers. Dominated mainly by male golfers in the past, this new crowd brings golf a more inclusive and diverse feel.
As businesses appeal to these demographics more, they will continue to invite fresh faces to enjoy the sport. The move toward inclusivity has been a long time coming for this sport, and it's a welcome change.
Healthier Food Options
As health becomes more important than ever, many adults are choosing healthier food options. Country clubs and resorts are starting to fall in line with this trend by offering more nutrition-focused food and drinks.
Right now, you're more likely to see this change with the increase in spiked seltzers and craft beers. However, we predict that more menus will begin to accommodate these preferences in the next year.
Membership Fees
The high cost of living in recent years has some golfers rethinking their memberships, causing a decrease in revenue for some clubs. With younger participants becoming more interested in the sport, clubs could benefit from catering to more budgets.
With demand increasing, it's hard to say how this will affect prices in the coming years, but we hope to see clubs be mindful of this in 2023.
Final Thoughts
With more people wanting to spend more time in the open air and care for their physical and mental well-being, we believe this is only the beginning of this increase in new golfers. Although we can never really know what the future holds for the sport, these are our predictions for what's to come in the new year.