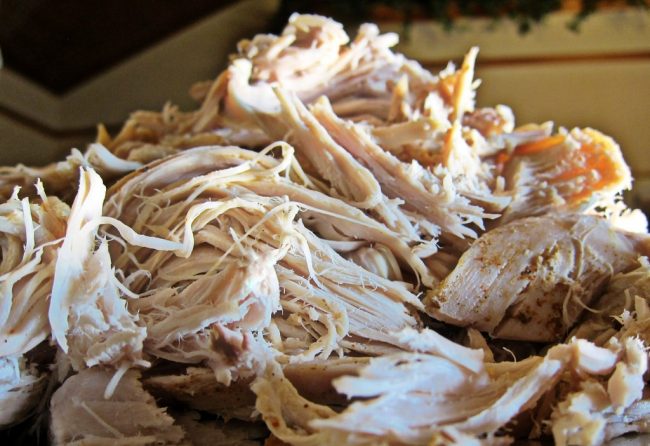 A Suffolk mum today insisted her family is looking forward to being force-fed leftover turkey for the fourth day in a row.
Lorraine Fisher, 34, said there was no point in wasting the remaining shreds of the carcass from her delicious Christmas roast.
But her partner and two children are too scared to tell her they are sick to death of it and just want some normal food.
Sales assistant Lorraine said: "I was brought up not to waste food, so I make sure I get my money's worth from the turkey.
"It's not so bad on Boxing Day when a lot of the nice, white breast meat is still a little moist. It's like Christmas dinner all over again.
"On the 27th, I introduced some of the brown meat that nobody likes and mixed it with some dried-out breast meat to make massive sandwiches, with cranberry sauce and some brie that was lying around.
"Yesterday I had to be more inventive and made a pie filled with some random bits of turkey, vegetables and stock.
"But today is a challenge – and one I shall overcome brilliantly.
"We are down the last few gristly bits of meat that would usually make everyone feel sick just to look at, let alone eat.
"It's also starting to smell a little bit.
"So that means curry! Yes, tip it all in a saucepan and make a hot, spicy sauce so that no one can really see, let alone, taste, whatever it is they are eating.
"I will feel so much better knowing I have got every last morsel out of the Christmas turkey leftovers."
Son Oliver, eight, speaking from the family's Woodbridge home, said: "It's bloody turkey today…. again!
"I put up with it on Christmas Day because I'm so excited about my presents that I'll eat anything just to get lunch out of the way.
"But then having turkey disguised as different things for the next four days is too much.
"Sometimes you just want something healthy like a light salad."
Mugs better than turkey
You can buy a mug from the Suffolk Gazette. They are tougher than Lorraine Fisher's week-old turkey…