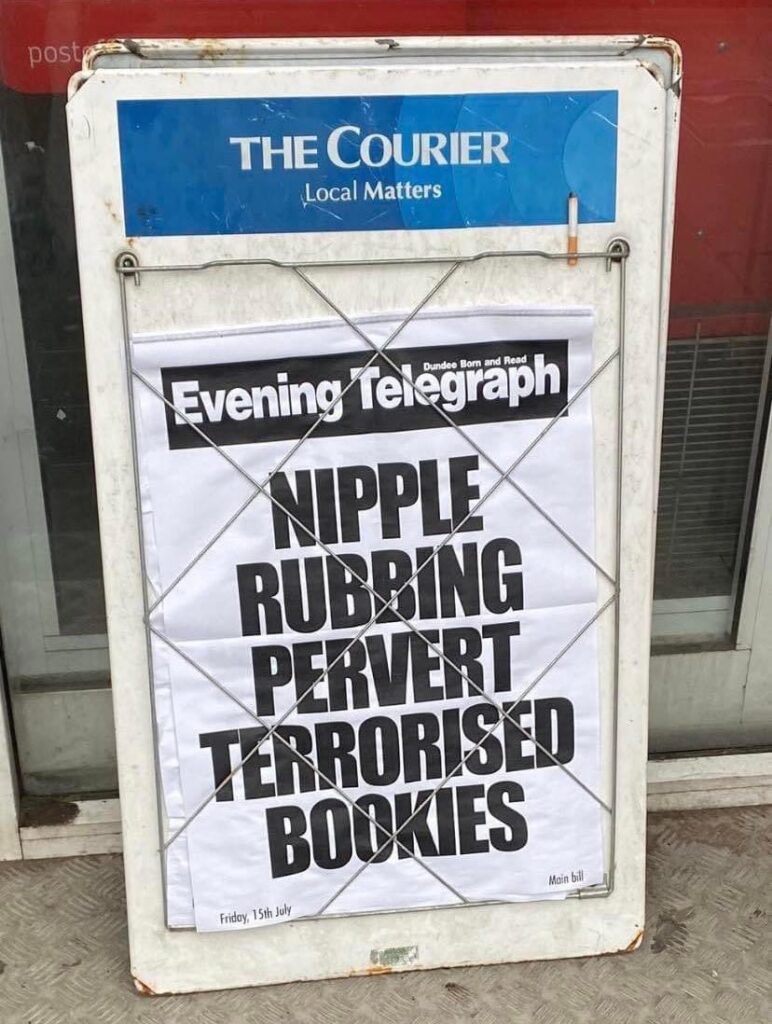 A Scottish nutjob-turned-nipple-rubbing-pervert has been remanded in custody after terrorizing staff at a Scottish betting shop.
Ross McGavin, 41, from Forfar (or East Fife), flicked and fumbled his nipples, and made other inappropriate and unfavourable gestures while loitering outside the shop in Castle Street Forfar (or East Fife).
A jury was told how McGavin, of no fixed mental state, made a female member of staff feel uncomfortable and uneasy, and a little bit queezy.
Complete tit
The Sheriff of Forfar (or East Fife), summed-up the case against McGavin adding. that there was a "significant sexual element" to the offences,.especially the bit where he grabbed his crotch and started yelling the Ladbrokes strapline.'We Play Together' at the top of his voice while pushing his face up against the shop window, squashing his nose and smearing the glass with snot.
McGavin who is a convicted moron and named on the sex offenders register for previous crimes against decency,.began his campaign of terror by picking up cigarette butts off the pavement and sticking them up his nostrils. His offensive antics continued over subsequent days until he was finally arrested by PC Hamish Macbeth who was on a break from filming in the area.
Lost his mammary
The shaven-headed imbecile was heard to shout "I dinnae gie a bugger. Ah dinnae mind a thing. Listen tae me… Albion Rovers tae draw wi' Forfar Athletic or East Fife fc 7-7, 33 tae 1, ye bastards!" as he was taken down to the cells.Fancy a city break in Forfar or East Fife? Visit Scotland for dirt-cheap away-day deals in the armpit of civilization!