A chocolate labrador who couldn't get the hang of bouncing on the family trampoline has destroyed it in a fit of rage.
Barry the brown lab had seen the John Lewis Christmas advert featuring bouncing Buster the boxer and thought: 'I can do that!'
But unfortunately it quickly became apparent that he couldn't – and the six-year-old, who is normally mild-mannered and well-behaved, got furious.
Owner Debbie Smith, 47, from Ipswich, said: "He lost all self-control when he couldn't do what all the other dogs in the neighbourhood were doing."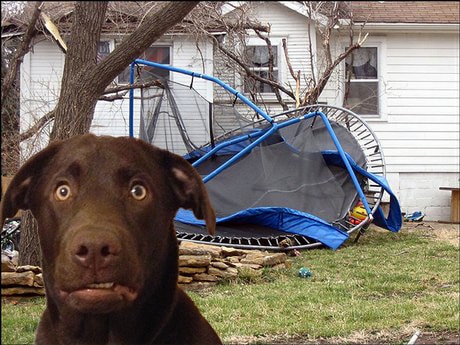 Woof justice: Guilty Barry destroyed the trampoline
Debbie continued: "He climbed up on the trampoline and tried for five minutes, but couldn't get any momentum going. Then he just went bananas and ripped the trampoline apart, which he loved as he was nearly wagging his tail off.
"My kids were very upset when they got home from school because they enjoyed using the trampoline."
Barry is now in the dog house and refuses to take any notice of Buster the John Lewis boxer when the ad comes on TV.
An insider at John Lewis said: "We are sorry to hear about poor Barry and his frustrations. However, we can not be held responsible for dogs trying, and failing, to copy our Christmas advert."