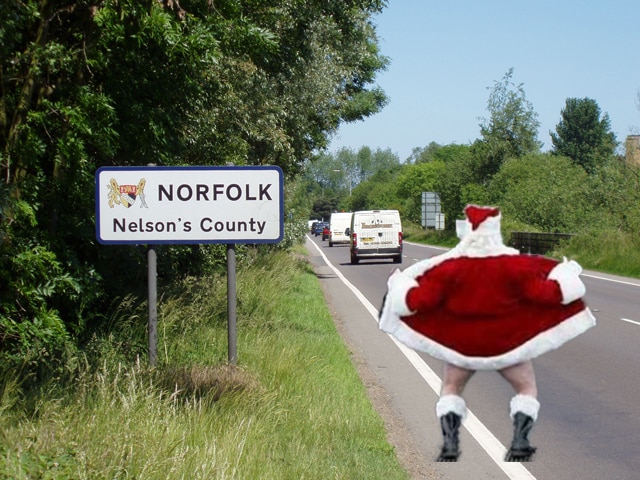 By Ian Bred, Norfolk Correspondent
Eyebrows were raised on social media today as the Suffolk Gazette became the latest company to release a woke Christmas television advert.
In the ad, aired today, a rude Santa gives a cheeky message to Norfolk at what is meant to be a time of goodwill to all men (and women, and they).
Santa opens his famous red coat on the A140 at the Norfolk border and displays his Christmas cracker and baubles for all to see.
The endearing scene is accompanied by the Flash soundtrack by Queen.
Even the usually po-faced people of Norfolk, who are an inclusive and diverse lot, have welcomed the ad.
But many Suffolk Gazette readers are furious the ad is too woke and doesn't go far enough – they wanted a far more robust p*ss-take out of Norfolk.
They complained to TV watchdogs after a volley of abuse on Facebook, and the Suffolk Gazette Santa may now be pulled off television screens on the first day he was aired in public.
Spokesperson for the Suffolk Gazette, Lorraine Fisher, 34, said: "We like to embrace the spirit of Christmas, and that includes extending our good wishes to our neighbours over the border in Norfolk.
"We simply wanted a friendly Santa who likes to show off his sack, but it seems not everyone approves.
"Even the humourless people of Norfolk, a county that butchers millions of Christmas turkeys each year, quite liked it, but you can't please everyone."
Christmas gift mugs that last for years
Buy Suffolk Gazette mugs as festive gifts that will be enjoyed every day for years. Dishwasher proof, 11ozs, with FREE UK delivery, what's not to like? Browse all collections at DirtyOldGoat.com – or buy our exclusive Suffolk Gazette collection directly below…