Business
Greater Anglia introduces new rail service for pensioners
By
|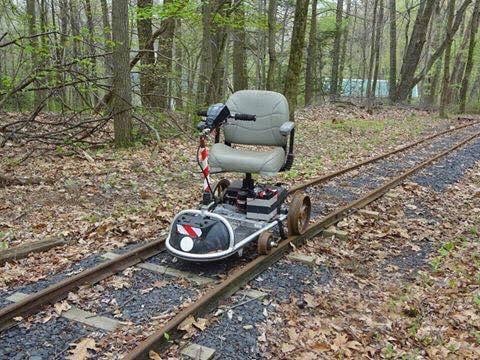 By Casey Jones, Railways Correspondent
Greater Anglia has introduced a comfortable new rail service for elderly customers, it has emerged.
The new single-seater, open-air carriages, pictured above on the Felixstowe line, can reach speeds of up to 15 mph and are already in use throughout Suffolk and Norfolk.
For just £2, customers over the age of 65 can climb aboard and drive their own carriage up the track – so long as they take a test on railway signalling systems first.
Each carriage has natural air conditioning, but there is no buffet service, aside from a cup holder for the passenger to place a mug of soup.
Greater Anglia already has 25 units running, but wants to build up a fleet of 500 by the end of the year.
An insider at the rail firm said: "This gives our senior customers complete freedom. Now, for just £2 they can travel from Ipswich to Felixstowe in their own luxury carriage. They just need to look out for the freight trains."
Rail watchdogs are not convinced by the new units, which run off battery power as they are unable to connect to the overhead wire.
"We have had reports of a couple of unfortunate head-on collisions. Plus several of the mainline InterCity services have been stuck behind these new single seaters because there are no overtaking opportunities on rails."
Join our witty Suffolk Gazette Facebook page community.