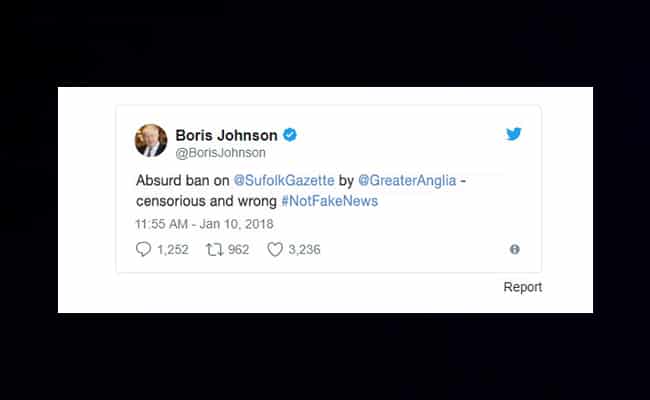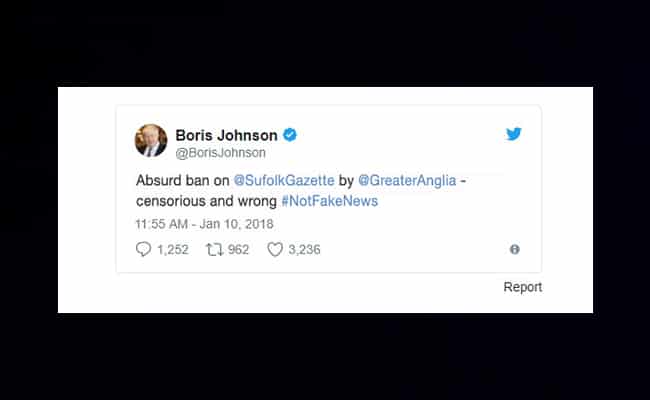 By Casey Jones, Railways Correspondent
Foreign Secretary Boris Johnson has jumped to the defence of the Suffolk Gazette after it was banned by Greater Anglia from its trains.
The newspaper is no longer for sale on trains between East Anglia and London because it is "not compatible" with Greater Anglia's brand.
But in a damning Tweet, Mr Johnson described the decision as "absurd" and "censorious", adding the hashtag #NotFakeNews.
Passengers who have enjoyed reading the Suffolk Gazette for hundreds of years were astonished when Greater Anglia removed it from sale.
Commuter Lorraine Fisher, 34, said: "It's pure censorship because the Suffolk Gazette holds the train company to account.
"Only last week it reported how Greater Anglia's record ticket price hike arrived on time, but the trains didn't.
"It's that sort of incisive journalism that we should cherish in a democracy.
"But Greater Anglia do not like it up 'em, and have banned the newspaper from being sold at the stations and in the buffet cars.
"They have even blocked the paper's website from the train WiFi."
The Foreign Secretary is a keen reader of this newspaper. He has close links with Suffolk, where he has business interests in six fish and chip shops.
His Tweet overnight will add further pressure on Greater Anglia bosses to reverse their newspaper ban.
An insider at Greater Anglia said: "Nobody reads the Suffolk Gazette anyway, so who cares?
"This won't suit all of our customers or all of our people – it's certain to draw some criticism. But we've listened to many colleagues over the last few months, and we feel that this is the right move to take."