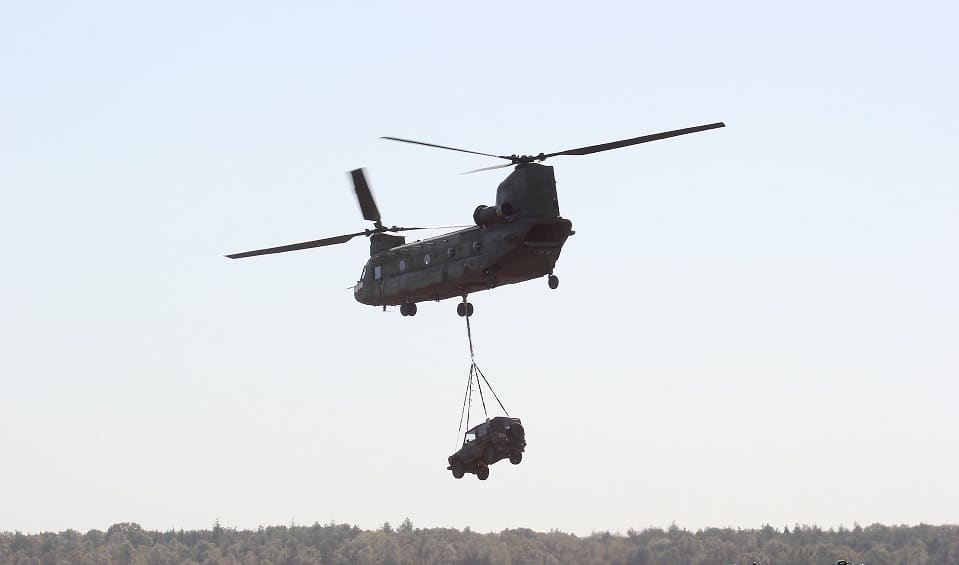 By Peter Grimes, Aldeburgh Correspondent
Traffic wardens will use a helicopter to remove cars parked illegally in Aldeburgh this Easter weekend, we can reveal.
East Suffolk Council has taken delivery of a Chinook, which hauls offending vehicles into the air and leaves them in a special compound outside the genteel resort.
Parking in Aldeburgh is especially difficult during holiday periods, with many visitors resorting to leaving vehicles where they shouldn't.
Now, instead of a traditional ticket on the windscreen, wardens call in for air support.
Head of council parking enforcement Lorraine Fisher, 34, explained: "The Chinook is kept nearby and one of our wardens has retrained as a pilot. It can be on the scene within five minutes.
"It hovers over the offending vehicle and drops down a rope for the traffic warden below to attach to the vehicle.
"Then it simply lifts the car or van into the air and heads off to our compound near the golf club.
"The response has been mixed. While the system undoubtedly clears problem parking areas and acts as a deterrent, some owners are not keen on their vehicles going on a flight.
"There was one early incident when we accidentally dropped an Audi estate from 140 foot because the harness was not secured correctly.
"But the warden has undergone more training and we have not seen any more incidents like that."
Aldeburgh parking
Owners whose cars are taken away by the Chinook are charged £700 as a release fee, which helps pay for the cost of the helicopter hire from the Army Air Corps at Suffolk's Wattisham airfield.
Driver Steve Walshe, 43, from Woodbridge was one of those caught out yesterday.
"I was sitting on the beach enjoying the sun when I saw this helicopter coming over the treeline from the Thorpeness area.
"It was like something from a Vietnam war movie.
"Imagine my surprise when it came towards us and then left after a few minutes with my Land Rover dangling underneath.
"I had to pay £700 to get it back. I was fuming."
The Chinook is a heavy lifting specialist that has been in service since 1962. Other local authorities are now looking to follow the lead from the East Suffolk Council pilot scheme.