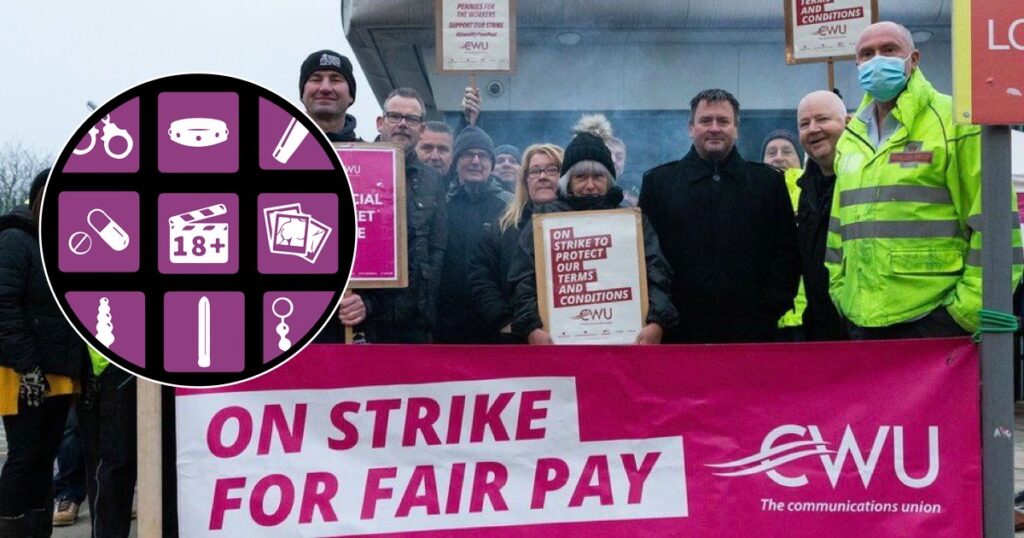 Horny shoppers all over the UK did not receive their kinky toys for Christmas this year due to Royal Mail workers strike.
Post offices all over the country are now flooded with mountains and mountains of dildos with nobody around to deliver them.
Royal Mail workers strike
Hugh Dennett, a post officer manager stated that they have been flood with orders since September, running the operation 24 hours, 7 days a week to get the sex toys to the people. The thing is, there are simply not enough workers to do the job due to the strikes.
Dennett later stated, "If it isn't resolved pretty soon there will be hundreds if not thousands of sex-starved Brits this New Year. That's not really in keeping with the festive spirit."
There are many reasons which triggered the walkouts such as salary, poor job conditions, and rules and regulations.
It would have been a true Christmas miracle if Santa Claus himself filled his good old sleigh with 6 tons of dildos and threw them all over the city on Christmas morning.
Everyone will wake up to a blizzard of dicks hitting their homes, cars, lawns, pools and even your head if you happen to be outside at the time.
We can only wish for a Christmas Dildo Miracle.
In the meantime, what are the people in the UK supposed to do without their toys?
Making your own KINKY TOY
Lorraine Fisher, 34, founder, CEO, and lead engineer at GetFruityCo.com, released a detailed tutorial on how to create your own sex toys with basic supplies found in the average household.
The tutorial is only 5 minutes long. Unfortuantly, many sex-starved brits were too turned on and impatient that they did not follow the entire tutorial which lead to fatal accidents.
Many used the wrong kind of batteries, or lubrication which lead to lethal electrocutions and severe allergic reactions.
Lorraine Fisher will face legal action for mass misinformation. She will be tried in court sometime in February 2023.
It is reported that the judge which will conduct the trial was a victim of these horrible events. This might not go well for Lorraine Fisher.
During the trial, they will watch the tutorial in which she will have to explain in detail how to make it and how to use it. It is still unknown whether Fisher will actually have to insert anything into her body.