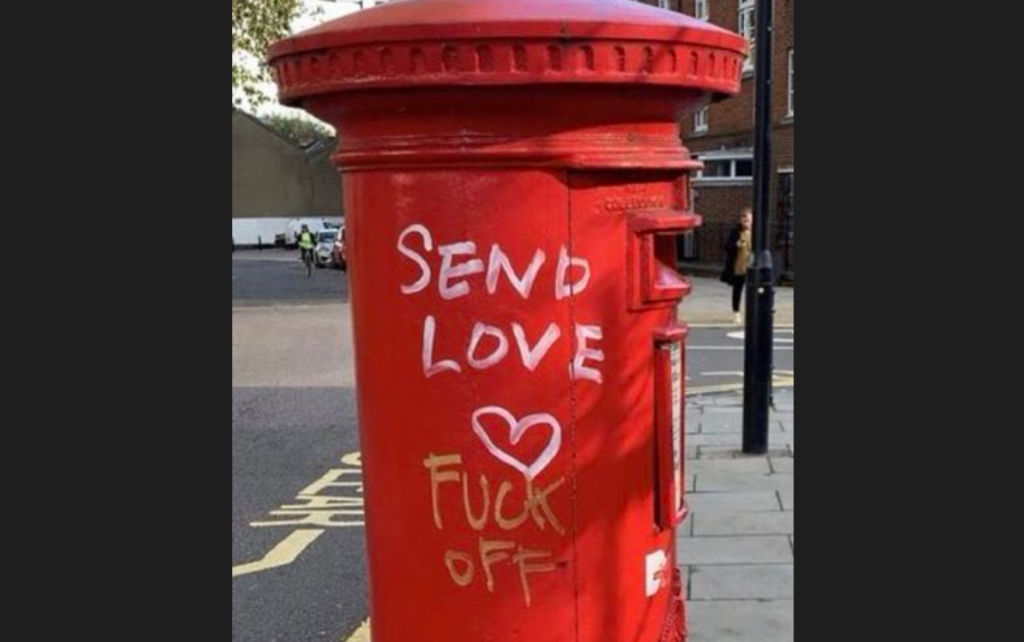 The long-standing feud between Royal Mail and the Communication Workers Union.(CWU) finally reached a heartwarming conclusion today with a display of affection reminiscent of the 1960's hippy era of peace and love.
Postal workers, renowned for their commitment to overlook the delivery of letters. come rain or shine in favour of militant political inactivity, decided by 60% to 40% to express their approval.of Royal Mail's 10% pay offer in the most poetic way possible – by posting ballot forms adorned with the word 'love'.
Letterbox
CWU spokesperson, Penny Stamp exclaimed, "We were expecting a simple 'yes' or 'no,' but our employees certainly went above and beyond with this display of affection. We never knew a ballot form could evoke such profound sentiments! Our hearts have been overwhelmed by this flood of 'love letters' from our dedicated postal workers. It's like a romantic comedy but without the awkward misunderstandings or sloppy montage sequences."
However, the 40% of posties who rejected the offer didn't find anything funny in the prospect of their long strategy of industrial action ending in abject capitulation. Ipswich Mail Centre Blueshirt, Dave Spock told the SUFFOLK GAZETTE, "Not happy. I voted 'Fuck off.' This means I've actually got to go back and do some f*cking work, FFS."
Stamp of Approval
Despite some lingering bitterness, both sides of the long-running dispute over higher pay and better working conditions accepted the 'love ballot' as a sign of unity and a real passion for the mail service.
Royal Mail and CWU Separation
Royal Mail and CWU officials are now considering commissioning a commemorative stamp.to celebrate the extraordinary resolution,.showcasing a heart-shaped letter being hugged by an enthusiastic postman under the RM motto: Better late than never.'