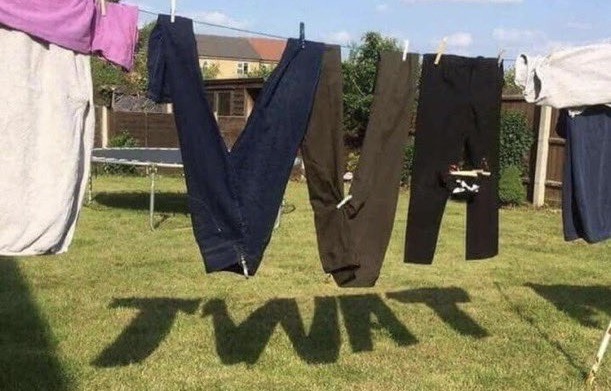 A clean clothes-obsessed pervert dubbed 'the clothes-line cusser' has been terrorising residents in the Culford area of Suffolk.
The washing-line weirdo, who has been active since January, uses ninja style-tactics to enter gardens undetected before re-arranging the clothes hanging on washing lines until their shadows spell out vulgar profanities.
In the 1970's, it wasn't unusual to find a complete stranger in your garden, hanging around the washing line, sniffing your wife's knickers – especially in Suffolk, but the clothes-line cusser has taken garden-based deviancy to a whole new level.
Keep it clean
Victim, Lorraine Fisher – 34 who lives with her husband Dmitri (24) at No.36, Benyon Gardens told this reporter, "Well, it was all such a shock. I mean, Dmitri & I, we're not exactly angels, and it's not like we don't use the occasional expletive around here. Dmitri calls the cat 'Bell-end" for a kick-off, lol!
But when I went out into the garden and saw the word 'benders' sprawled across the lawn in shadow, well I was a little cheesed-off, to say the least, although I was impressed with the way the culprit had curled a pair of my leggings in an 'e' shape and held them in place with some intricate peg work."
Big hair salon
Nearby neighbour, Julie Cressingham (21), a trainee hairdresser at the Hair Grande salon on Ingham Road, also fell victim to the laundry lunatic when he rearranged her clothes to spell out the words 'bastard haircut'.
An upset Julie told me how she felt violated by the intrusion onto her premises. "Who the f*ck does this perv think he is? And what does the message even mean? I am doing very well at the salon thank you very much, and I have a lot of very satisfied customers. Bloody cheek!" Police have issued an image of the person they want to speak to in connection with sixteen alleged incidents of trespass to goods, and trespass to land.