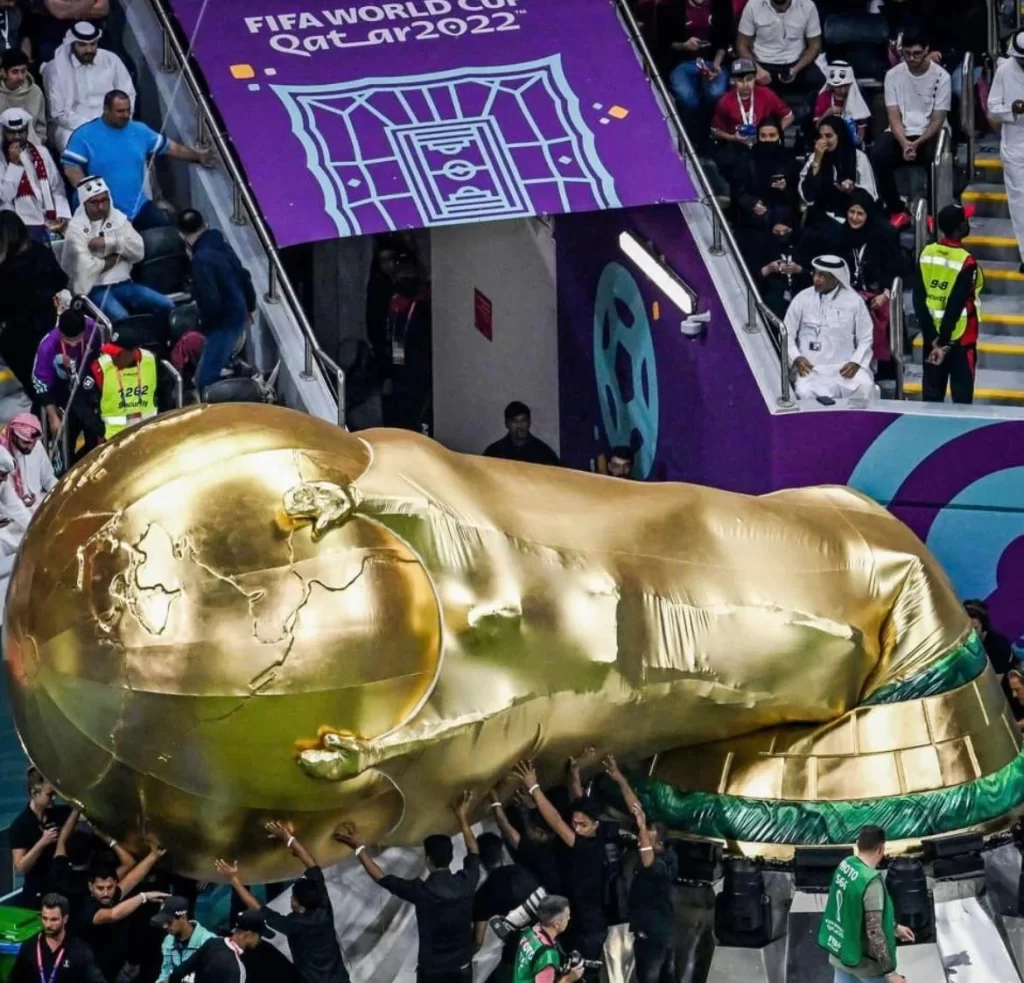 Doha regrets hosting the Fifa world cup after an embarrassing incident at the stadium when an inflatable trophy collapsed.
Sports Correspondent "Jimmy Hill" Doha
As I sit here in Doha waiting to find out when and where the 2022 Fifa World Cup will start. I can't help but think back to the great tournaments of the past… 1966, England, the incredible rerun of WWII in which England came out 4-2 victors after extra time – with a little help from a Russian linesman. 1978, Argentina. The blazing heat. The Cruyff no-show. The ticker-tape final in which Mario Kempes' double strike claimed the $20 million, 18-karat gold FIFA World Cup Trophy. 1998, France. Zinedine Zidane's masterclass in heading steers the hosts to their first WC Trophy win over a Brazil team in disarray. All incredible, iconic moments in world football. And what did they all have in common? People watched it. In their millions.
Just popping down the Red Lion, love.
Yes. People used to actually watch the Fifa World Cup. It was considered exciting, important even. Men would gather in pubs with big flatscreen TV's, and leave the remaining members of their families to gather around transistor radios in dingy, poorly furnished living rooms to listen to cracking commentaries from me, John Motson, and Barry Davies.
Children would buy or steal packets of Panini stickers from their local newsagents with which they would quarter-fill their albums. Boy racers would attach flags to their Ford Cortinas as they sped between pubs honking at other fans or teenage girls hanging around shoe shops on the High Street.
Fifa World Cup Fever
Café owners of all nationalities (especially the Greeks and Portuguese) would drape their interiors with their national flags and posters of their star players as they huddled around badly tuned, wall-mounted TVs cheering, yelping, and yelling at every kick of the ball (or foul, if they were Argentinian.)
And boys (this was before girls played football) would take to parks and street corners to emulate their favourite players and re-enact wondrous goals from the day's play. Even invent winning goals for upcoming games in which they dreamed they'd play.
They think it's all over… it is now.
I've been sitting here for three days, waiting for something to happen. Apparently, the tournament began on Sunday with a game between the hosts and Ecuador. I have no idea what happened. Nor, it seems does anyone else. All I know is that lots of people aren't allowed to wear rainbow armbands and that something is going on in the stadiums while everyone is at work
Is anyone actually watching?