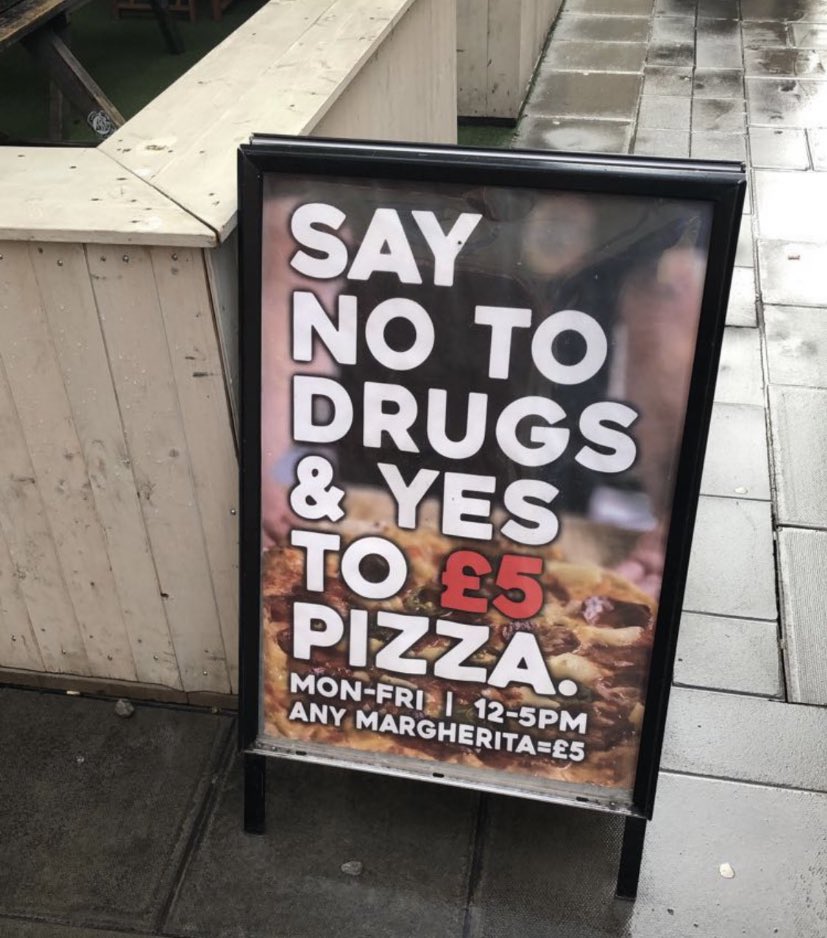 A Bury St Edmunds pizza parlour is fighting back at the news of a new wonder weight loss drug being made available on the NHS.
Wegovy, the miracle drug for fatties, can help people reduce weight by over 10 per cent so long as they steer clear of pies, crisps, chocolate, and lard while on the course.
However, Peter's Pizza Parlour on Cannon St, Bury St Edmunds, is advising its customers, especially the chubby ones, to ignore the advice and keep eating its delicious pizza which it says costs only £5. Hmmmm.
Say no to drugs & yes to £5 pizza
As is usually the case with attention-grabbing sales slogans, a closer look at the small print reveals that the £5 offer only applies to boring old Margherita pizzas purchased between 12-5pm weekdays, when no-one really wants it.
More worrying is the fast food retaurant's plea for customers to keep eating its high in saturated fat pizza against the advice of health experts promoting the use of the Wegovy drug.
Obesity, or 'fat-piggery' to give it its proper name, can lead to early death, an inability to sit comfortably on a train or aeroplane, and a greater likelihood of knocking dainty collectables off of shelves when wobbling around a gift shop at Christmas.
Other health problems arising from being a greedy, fat bastard include: dysglycaemia, hypertension, dyslipidaemia, obstructive sleep apnoea, and cardiovascular disease, although these are just posh names for not being able to breathe properly when getting up out of your lazyboy chair, and for sweating profusely when you brush your teeth.
Margherita eater
We asked one seriously overweight customer we saw coming out of Peter's Pizzas what he thought… "Chomp, chomp, mleeurgh, chomp, burp, chew, comp, mleeurgh, burp, belch, fart."
So there it is. The lard-arses of Bury St Edmunds all agree – Say no to drugs & yes to £5 pizza!
Burp!