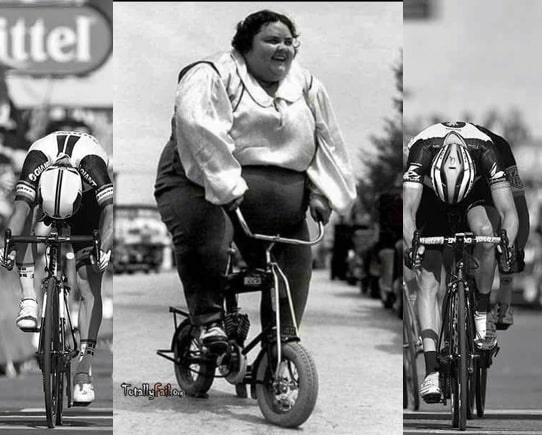 By Bernie Legg, Cycling Correspondent
A woman from Norfolk was the surprise winner of today's tough stage of the Tour de France.
Marlene Spuckler, 24, from Downham Market, crossed the line ahead of Team Sky's Chris Frome and Geraint Thomas, who currently holds the yellow jersey.
[AdSense-A]
Organisers are hoping Ms Spuckler, who only took up cycling last week, does not continue her form and take the overall race lead – because they haven't got a yellow jersey big enough.
She surprised everyone by taking today's hotly-contested stage.
Representing Team Bernard Matthews, her equipment is not as advanced as the other racers.
Certainly her bike does not seem quite as aerodynamic, and does not appear to be made of feather light carbon parts.
Bicycle expert Lorraine Fisher, 34, said: "Marlene Spuckler's stage win is the surprise of the Tour de France so far.
"It's a victory for women, and it's certainly a victory for everyone in Norfolk.
"No longer can anyone call it a sporting backwater."
[AdSense-B]
Other participants were delighted to ride behind Spuckler for more than 100 miles.
One said: "The drafting was superb. I was being carried along by her slipstream and didn't really have to pedal all day."
* * * * * *