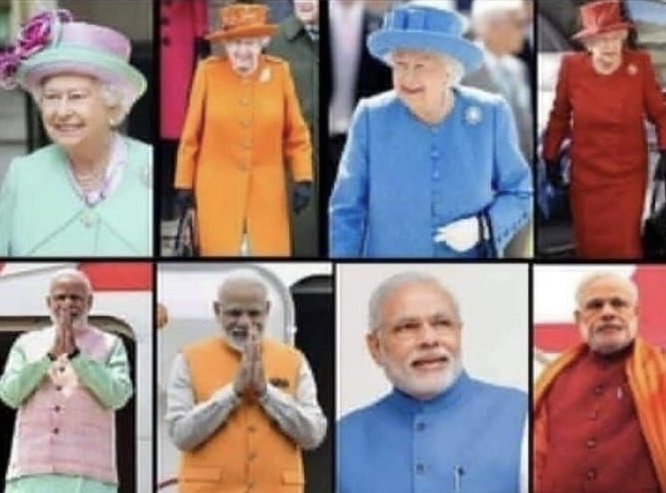 Prime Minister of India, Narendra Modi was a die hard fan of our beloved Late Queen. He followed our Queen's ways of ruling an empire but unfortunately couldn't adopt the British accent.
Zoom, and then my heart went Boom
According to a new book by QE2's dressmaker, Lorraine Fisher -34, Narendra Modi, Prime Minister of India, and her late maj (of whom Narendra was a long-standing friend) are known to have shared similar tastes in regal coutur
It is believed, that the two of them would often shop together over zoom to coordinate their outfits.
Narendra Modi & Britain
The book 'Blame Me – Confessions of Queen Elizabeth's Dressmaker' – tipped to be a bestseller. Reveals the extraordinary story of two very different states people, sharing a love of elegant, grandmotherly unisex tailored garments – across borders.
New keeper of Queen's wardrobe:
The Princess of Wales, Kate Middleton is set to become the beneficiary of late Queen Elizabeth's wardrobe. Not her actual wardrobe, but the clothes in it.
For someone known for her beauty, style, and modern, easy sense of fashion, this may sound more like a curse than a blessing.
However, the news has caused extreme disappointment to one particular world statesman who greatly admired the late queen's frumpy-dumpy style of dress.
Palid Pallette
Colours favoured by the two costumiered kindred spirits included: 'elegant eggshell', 'regal rust', 'end of an empire blue', and 'archduke orange'.
Friends of H.R.H. Middleton report that her initial response to the news of the unbefitting bequeathment was 'thanks, but no thanks… but one is quite interested in the jewels.' Queen consort, King-Kong-Camilla-Parker-Windsor-Bowles is also thought to have been relieved at the news… which really is saying something.
Possible Etymological Accuracy?
A spokesman for P.M. Narendra Modi told this reporter "It is very true. Modi is considered a person of high fashion taste in our country. The Gujurati word 'Modi' actually means 'Fashion' – a bit like the French 'Depeche Mode' – 'fashion news' – not the band from Basildon in England with the lead singer called Dave Gahan who, despite having an Indian-sounding surname, is actually of Malaysian / English descent."
Utter Rubbish
According to an article in the Hindustan Times, household waste originating in the UK is being shipped to and dumped at various sites across India, in particular, a rubbish mound in Tamil Nadu, a region in Southern India.
The Suffolk Gazette has advised the office of the Indian P.M. to look out for imminent deliveries from Kensington Palace, UK.
Source: Hindustan Times india