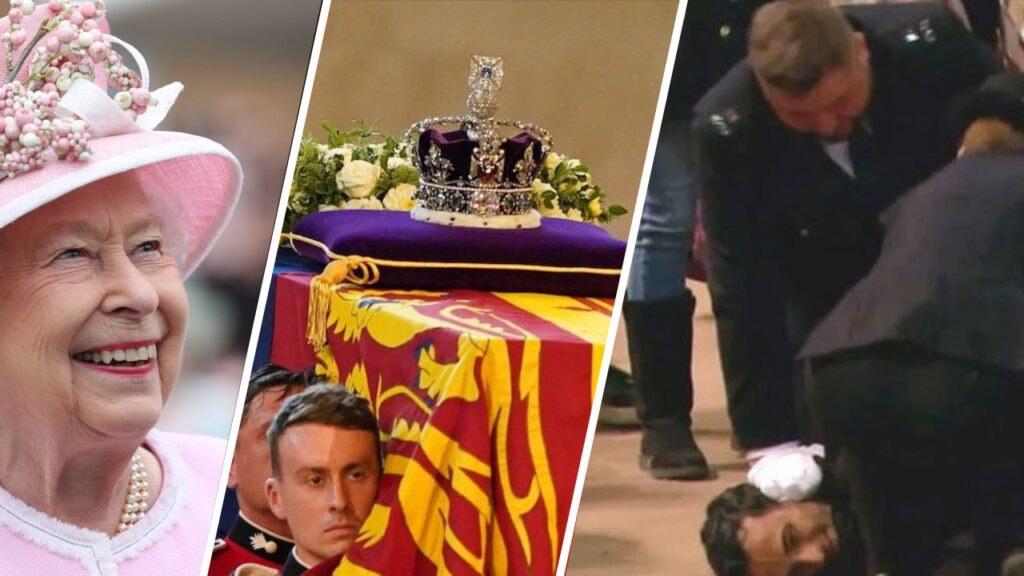 The man who was arrested after grabbing the Royal Standard flag draped over the Queen's coffin at her lying in state in Westminster Hall did so because he 'thought she must have been thirsty having been lying there for such a long time and wanted a cup of tea'
Khan't Be True!
Muhammad Khan, 28, also 'planned to deliver pizzas to royal residences' including Buckingham Palace, a court heard today.
When the 28-year-old was asked why he wanted to have food delivered to members of the royal family he replied that he thought they must be hungry after having been 'waiting up for so long for the queen to come home'.
Why Didn't the Guards Stop Him while grabbing The Royal Standard flag?
Khan, appearing at Westminster Magistrates' Court today, leaped from the queue in Westminster Hall and rushed at the coffin while the late monarch was lying in state.
It is not clear why the numerous armed 'guards' surrounding the catafalque upon which the queen's coffin was resting didn't act to intercept him.
The court heard that having opened the lid of the coffin, he was intending to inquire whether the queen "fancied a cuppa" because he thought she must be "parched" after having been lying in her coffin for such a long time.
When it was put to him by Prosecutor Stan Luketon that the queen was deceased and not in need of refreshment, he replied "I'm not surprised, being left there all that time without a brew."
Live Feed Not Feed the Dead
A live feed showing the thousands of mourners filing through Westminster Hall was briefly cut away as 'Mad Mohammad' (as he is known to his family) was tackled to the ground by police officers after he grabbed The Royal Standard flag.
He was found to be carrying six bags of 'Tetley Original' tea bags, some sachets of McDonald's granulated white sugar and a plastic spoon.
Khan was arrested at the scene and appeared at court today, charged under Section 4A of the Public Order Act.
The judge granted him bail on condition he remains in an east London mental health hospital until his next appearance at the same court on October 18.