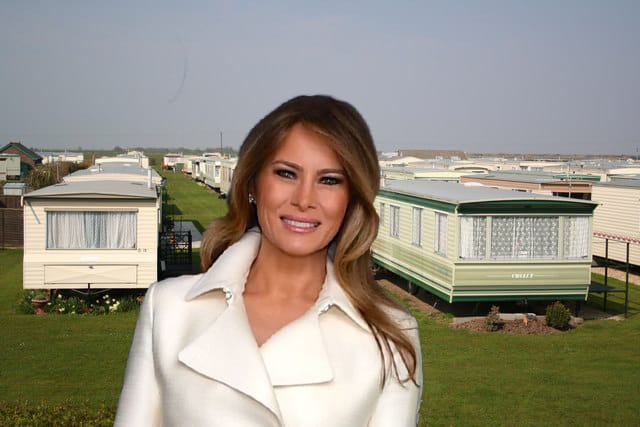 WORLD EXCLUSIVE
First Lady Melania Trump was not 'missing' for 24 days – she was enjoying a secret holiday in a caravan on the Suffolk coast.
Mrs Trump had undergone a minor operation in Washington and needed somewhere quiet to recuperate, away from prying eyes.
And President Donald Trump, aware that his new friend, North Korean dictator Kim Jong-un has a Suffolk caravan, thought it would build bridges if his beautiful wife did the same.
Melania spent 15 nights in an unassuming Hulse Ross static caravan at the site near Sizewell, overlooking the North Sea.
The holiday home has two bedrooms, a kitchenette and even boasts in indoor loo and shower.
Fellow holidaymakers, including families with young children enjoying the half-term holiday, had no idea about the world-famous guest on the site.
Armed secret service personnel hired the caravan on either side of Mrs Trump's to ensure her safety.
She spent many days happily exploring the Suffolk coastal path, and walked as far south as posh Aldeburgh, and ventured north all the way to Dunwich, where she enjoyed sampling a pint of Adnams beer at the Ship Inn.
Mrs Trump was spotted in Aldeburgh, browsing the book shop, by a Suffolk Gazette reader.
But we agreed to keep her visit a secret until she was safely back in the United States.
She refused an interview, but as a thank you for respecting her privacy, Mrs Trump issued us with this statement.
"I enjoyed my time in Suffolk very much. The people are much friendlier than in Washington. I had fish and chips, walked on the beach, and thought the area was lovely. It was an experience staying in one of your caravans, and I even thought the nearby town of Leiston was interesting."
Mrs Trump made her first public appearance in America for 24 days yesterday, attending a meeting at the Federal Emergency Management Agency headquarters in Washington for a briefing to discuss preparedness ahead of the 2018 hurricane season.
Mr Trump told pressmen and repeated on Twitter that there had been nothing suspicious about his wife's absence for so long, blaming it on her benign kidney condition.
He made no mention of her exciting trip to stay in her Suffolk caravan park.
The park's owners refused to discuss their VIP visitor, or disclose if she had paid full price for her stay.