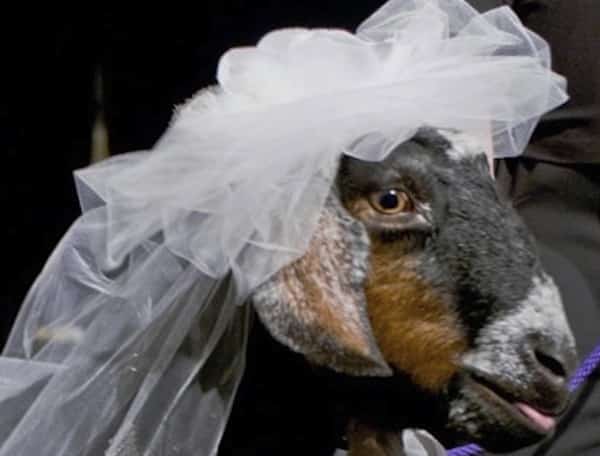 A Suffolk man was forced to marry his goat after admitting he had special feelings for it.
Under an ancient bylaw in the rural parish of Little Brimmer, village elders ruled the man had to make an honest goat of his favourite pet.
There was a special ceremony at the village church, where The Rev Evan Elpuss wished the happy couple a long and fulfilling life together.
The man – named locally as Billy Kidd – whisked his new bride away for a pampered honeymoon break at Easton Farm Park, near Framlingham, but refused requests from this newspaper for an interview.
However, one member of the wedding congregation managed to sneak a picture of the bride, which we reproduce at the top of this page.
"It was an unusual ceremony," he said. "Local laws dating back hundreds of years say that if a man expresses fondness for an animal he must marry it. But as far as I know, this is the first time the law has been enacted in generations."
Parish council chairperson Lorraine Fisher, 34, refused to comment, unusually for her.
But in a written statement, the parish clerk wrote: "This may seem unusual for many, but in rural parts of England we still maintain some quaint traditions.
"We ask that you give everybody some privacy. This is not some kind of zoo."