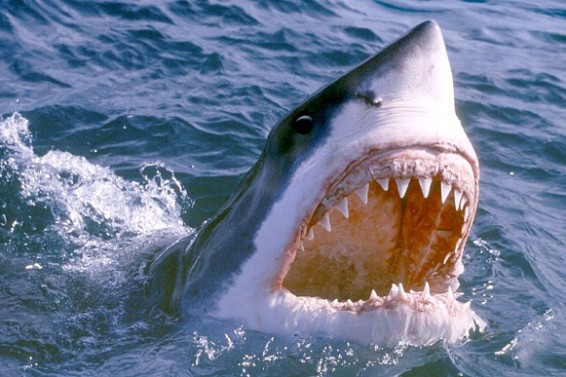 EXCLUSIVE
By Courtney Pike, Angling Correspondent
Families have been warned to avoid paddling in Suffolk's River Deben after a man-eating shark was spotted hunting for seals near Wadringfield.
Open water swimmers and small boat owners have also been told to beware of the six-foot Great White, which has appeared twice in recent days.
The shark has taken advantage of warmer waters to travel around the south coast into the North Sea.
Experts say it then became attracted by seals in the Deben estuary near Felixstowe Ferry, and swam inland, where it has plenty of protection from reeds and muddy water.
Members of the UK Shark Society have been out on the river since Saturday. They hope to find the shark and then guide it back to sea, from where it is expected to migrate back to the Atlantic.
"It is most unusual," said the society's Sean Finn. "These creatures are not normally seen around here.
"We would advise people to keep out of the water for now – these things can give a nasty nip."
However, the mayor of Waldringfield, Peter Grimes urged everyone to enjoy the river as normal.
"It's perfectly safe to come here, enjoy all we have to offer, and swim. The water is great!"
Local fisherman Trevor Whymark was less convinced, however.
"I'm going to need a bigger boat," he said.
Suffolk shark expert Lorraine Fisher, 34, said she did not believe the shark was the same one that attacked a Felixstowe windsurfer in 2016.