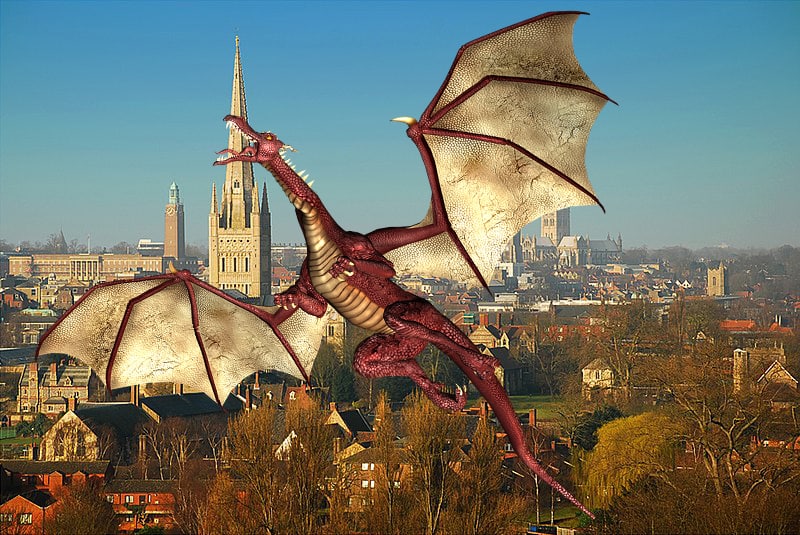 By Ian Bred, Norfolk Correspondent
A virtual stop to air traffic has seen dragons return to the skies over Norfolk, it has emerged.
The fiery creatures have become all but extinct except for parts of Norfolk, which is considered to be hundreds of years behind the rest of the UK.
Around seven breeding pairs are known to exist, mainly in the unchartered territory around Downham Market and the north-west of the county.
But with airplanes now virtually absent from the skies, the dragons are able to fly with more freedom.
One, pictured above, was even seen over Norwich yesterday, looking for a local peasant to feast upon.
Professor Lorraine Fisher, 34, Britain's foremost dragonologist, said the creatures have been all but wiped out by commercial air traffic over Norfolk.
"There have been too many cases of dragon strikes, which is a danger to aircraft as well as killing the poor dragons.
"But with just about all planes grounded, the dragons are confident enough to fly around again.
"Norfolk people are therefore urged to keep their small animals and young children indoors."
Local Norfolk man Bubba Spuckler, who lives with his sister and their eight children, said: "We always said there be dragons in Norfolk."
The dramatic dragon news follows revelations that even Lowestoft was beginning to return to nature.