North Korean leader Kim Jong-un scored all nine goals as his country crushed Vietnam in a World Cup qualifier last night.
The official news agency for the Democratic People's Republic of Korea (DPRK) in Pyongyang reports today how the gifted striker ran the Vietnamese defence ragged and was easily the man of the match.
Playing in front of 250,000 fans packed into the national stadium, Jong-un bagged five goals in the first half before helping himself to four more in the second in the stunning 9-0 victory.
North Korea now tops its Asian World Cup qualifying group by 27 points, according to the North Korean Central News Agency.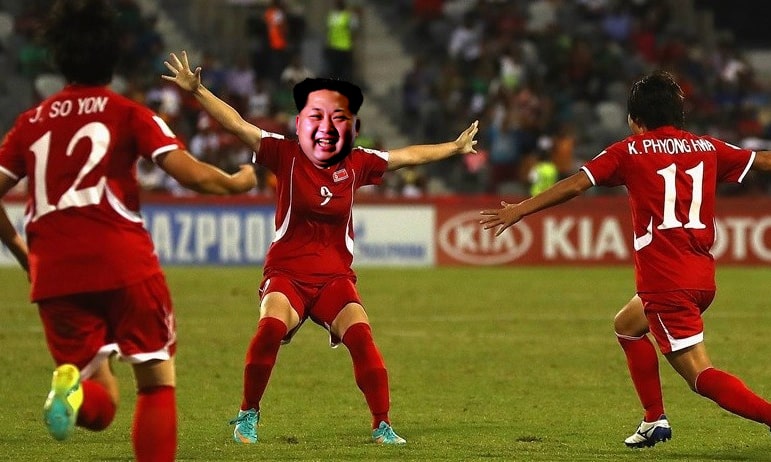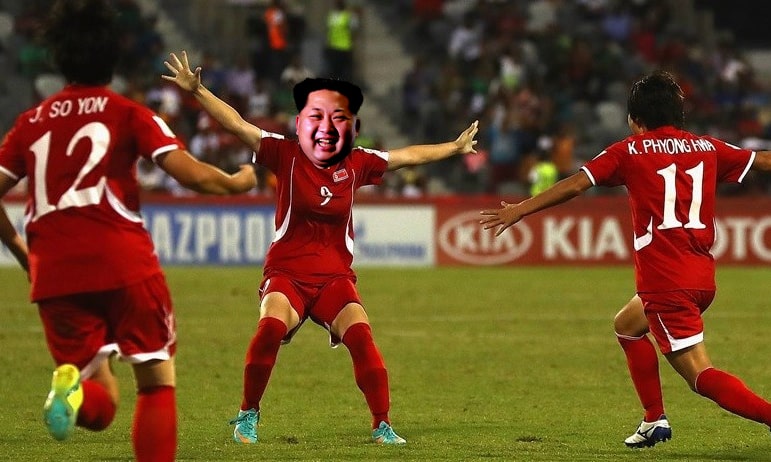 Wonder strike: Kim Jong-un celebrates his sixth goal, an incredible 50-yard shot into the top corner
The official match report says Jong-un was naturally two-footed and, being six-feet four inches tall, was a great header of the ball. It added that his natural strength meant opposition teams were unable to get the ball off him.
North Korea football
It continued: "It was a masterful display from the glorious leader. He could have got many more than nine goals, but he was very unselfish and passed to other members of the team when he could have scored himself.
"One goal was a 50-yard screamer, two more were headers from outside the box, while in another he picked up the ball from his own corner flag and dribbled past all eleven of the Vietnam players before blasting the ball into the empty net. The crowd loved it and were chanting his name all evening."
Jong-un's heroics on the football pitch — he has now scored 176 goals for the national team in just 33 appearances — echo previous family sporting exploits.
His father, the former leader Kim Jong-il, was a scratch golfer who once famously scored 12 holes in one in a single round. Meanwhile, Kim Jong-un is also an adept rugby player who has given private coaching lessons to England and Australia.
He is also an accomplished mountaineer and has completed five solo ascents of Mount Everest.