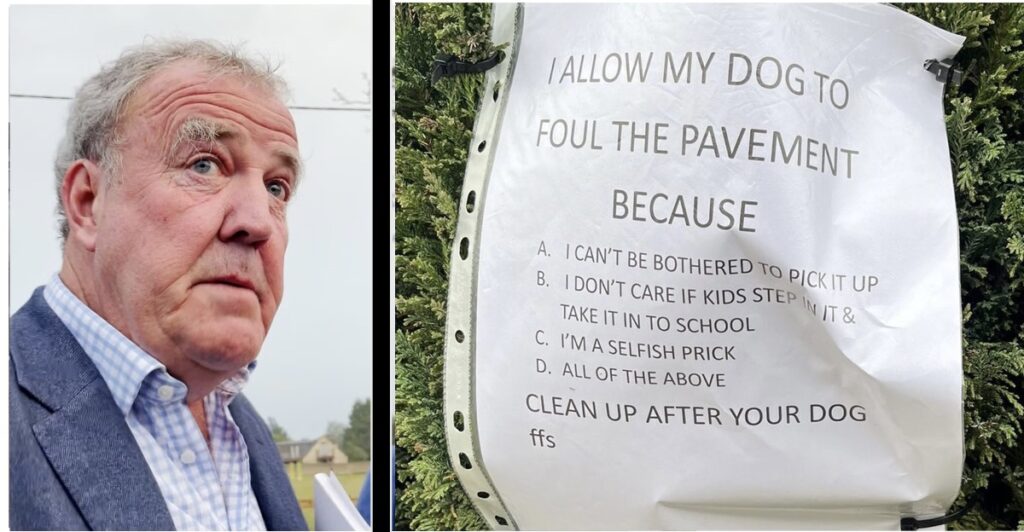 Jeremy Clarkson, the obnoxious host of television quiz show, Who Wants To Be A Millionaire?, may or may not have been axed as its presenter.
A TV insider told our entertainment correspondent that gobby fatso,.Jeremy Clarkson, who recently got into bother for saying he dreamt of throwing shit at the Duchess of Windsor,.raised the ire of the show's producers, not because of his weird fantasy about Meghan Windsor,.but for allegedly losing the answers to the tasteless game show's million-pound question while he was dicking around on Diddly Squat Farm – his toy 1,000-acre farm in the Cotswolds.
Pugnacious fake farmer Clarkson, who learned all he knows about pigs by being one, was allegedly so busy waving his arms about and shouting at other cast members during filming of a new episode of Diddly Squat Farm called 'Cash Cow', that he didn't notice a piece of paper containing the millionaire question fall out of the back pocket of his jeans which were hanging halfway down his arse.
Phone a friend
The piece of paper was later found by a sheep enthusiast trespassing on Jeremy Clarkson's farm. The intruder, who wished to remain anonymous, told this reporter "I am enthusiastic about sheep and I like to follow them, usually after dark. I knew that Jeremy Clarkson had North Country Mules and fancied a bit of that. So I went, didn't I? Anyway, I was up there sniffing around when something crunched under my foot. It was the letter. Not the letter, the question. The million-dollar question. Not million-dollar, million-pound. I didn't know what to do with it so I phoned Country File host, John Craven, who's a friend of mine. I sent it to him and he sent it to London."
50/50
Our TV insider told us that after the sheep enthusiast contacted Sony Pictures Television, Clarkson was called back to London to urgently give an explanation to execs about his carelessness. It is reported that Clarkson may or may not have since been axed as the 'millionaire' presenter.
Ask the audience
Do you like Jeremy Clarkson? Write to: doordontilikejeremyclarkson@suffolkgazette.suffolk.