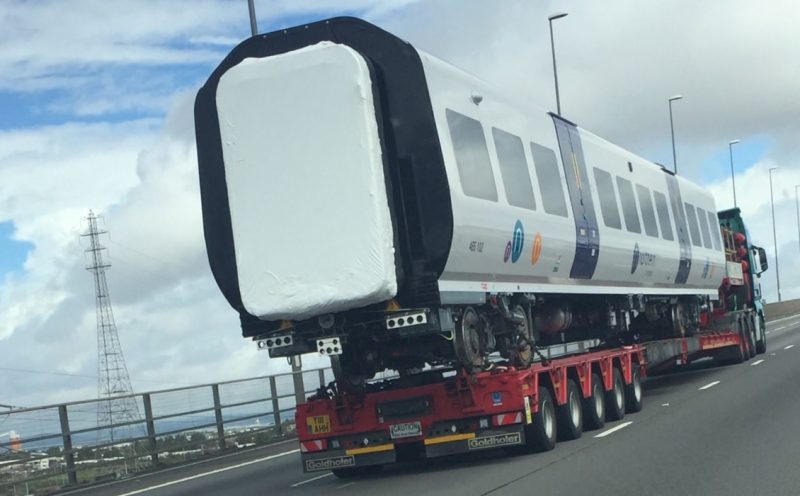 By Casey Jones, Railways Correspondent
Greater Anglia has launched a new hi-tech commuter rail service which promises to be its most reliable ever.
The under-fire train company has begun a novel peak-time service between Ipswich and London Liverpool Street, stopping at Colchester.
It features a single train carriage strapped to the back of a lorry, which sets off from Ipswich station at 5.30am.
The 'train' then heads down the A12, round the M25 and into east London to Liverpool Street via the A13, arriving at 10am.
Service levels are said to be "excellent", with no reliability issues with trains breaking down.
And the only signal problems encountered so far was when the traffic lights at the end of Burrell Road turned red just as the lorry was approaching.
Lorraine Fisher, 34, of Greater Anglia's innovations department, said: "Our customers have been telling us for years that our trains are unreliable.
"Together with points issues, signal failures, line-side fires, leaves on the line, it being too cold and it being too hot, it all adds up to a fairly crap service.
"Now we have come up with this brilliant new plan, and we haven't had one train fault yet."
The lorry train has been such a hit that Greater Anglia is leasing another 30 lorries.
Each will have its own train carriage on the back, and will be able to take hundreds of passengers every day.
Rail user Steve Walshe, 38, of Woodbridge said: "I commute into London every day from Ipswich and have used this new service once.
"It was very reliable, but a little slow. However, at least it got me to work, which is not always guaranteed with the current rail service."
But critics say Greater Anglia's the new lorry train idea is a waste of money.
"They already have a huge fleet of rail replacement buses. Why not just use them all the time?" asked on angry passenger.