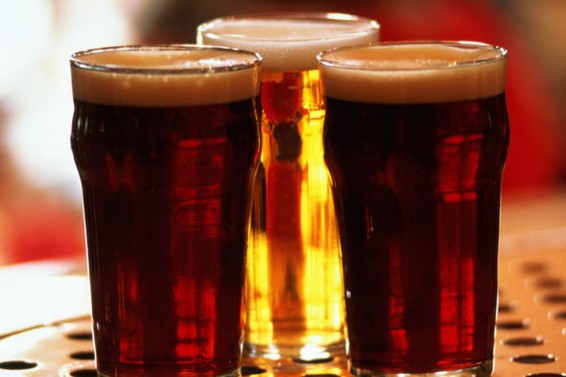 By Phil Ward, Health Reporter
Scientists have discovered that drinking beer makes men more intelligent.
Boffins at Suffolk's prestigious College of Medicine found men who drink at least five pints of ale a day were far better equipped to hold high-level discussions about important issues of the day.
And blokes on the beer were also more adept at completing brain tasks like finishing cryptic crosswords and solving complicated mathematical equations.
The surprising findings will be music to the ears of boozers across Britain, who have been insisting beer is good for them since the drink was first invented in 1937.
But the scientists at the College of Medicine in Stowmarket, which is recognised as one of Europe's top drug and chemical research institutions, found that the opposite was true for women.
"We supplemented our research by looking at women's behaviour after they have been drinking beer," explained the college's Dr Lorraine Fisher, 34.
"Unfortunately women are wired differently to men, and women became less intelligent after drinking.
'Talking gibberish'
"We conducted strict testing under laboratory conditions and watched aghast as the women on the beer started talking gibberish and picking fights with each other.
"It always started with something really small, an innocent passing comment, for example. But it quickly blew out of proportion into a real ruck that spilled out into the car park.
"We then carried out the same intelligence tests as we did on the male test group, and the women had trouble holding the pen the correct way up, and could then only draw doodles on the crossword rather than complete it.
"But for men the news is indeed very encouraging, and the fact we are releasing it on a Friday means they can go into the weekend with their heads held high, knowing a good night or two on the beer will make them a better person."
Dr Fisher, 34, is yet to release the full findings, but she did reveal that her team found chemical reactions between malt, sugars and yeast were responsible for increasing cells in the male brain.
Beer drinker Danny Francis, 28, of Eye, said: "I knew I was a clever bloke but did not really know why, because my dad and the rest of the family are pretty thick.
"But I drink loads of Adnams beer, so this research explains it. Last week I completed the Sun's crossword for the first time in my life, and that was after seven pints."