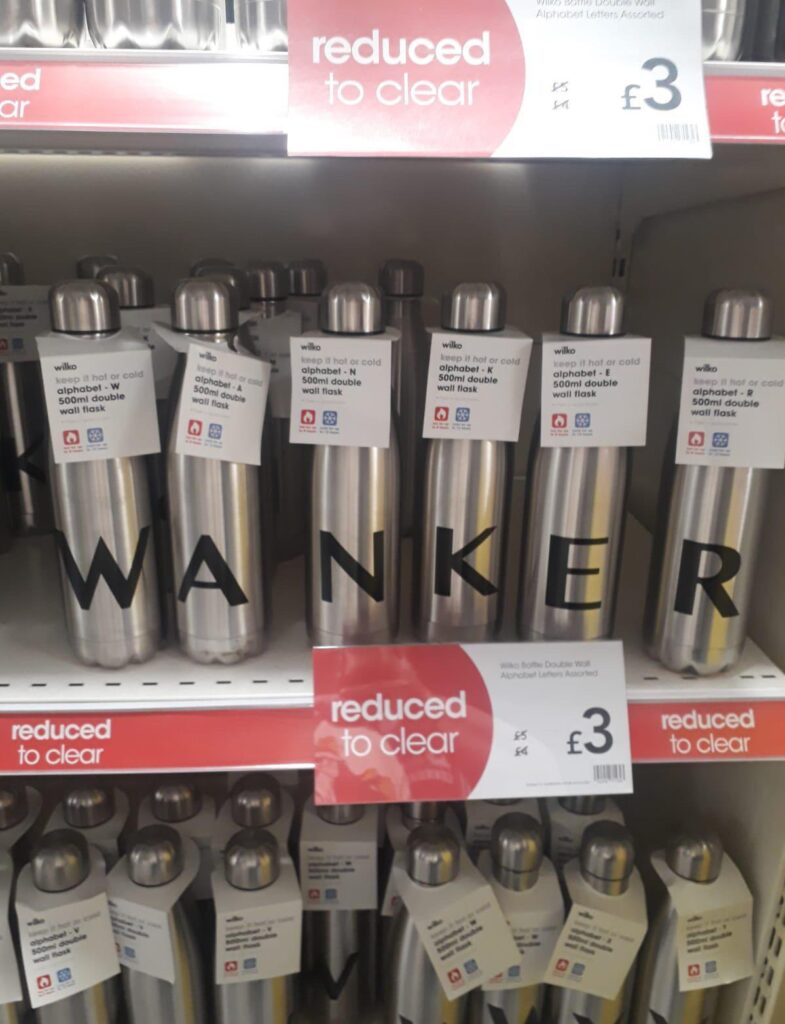 Wilko has produced a range of gifts for the people you hate most in the world. The cheap, tacky gifts which, in normal circumstances, you wouldn't wish on your worst enemy, are designed for your worst enemy.
The gifts, which are all manufactured in China and Taiwan, include,.a pair of two-left-footed hessian and polystyrene slippers (£4.49), a family pack of twelve,.one-ply toilet rolls with finger holes (£2.29), a set of six insulting 'mix'n'match'.water bottles which spell-out exactly how you feel about them (£4.99), and various branded gift cards with no credit on them (£5.00).
Wilko Attitude
Wilko Vice President of Products, Graham Bruckheimer, told the Gazette "Attitudes are changing,.and the retail space has to change with them. Years ago, in the 1950's for example, people used to be nice,.and they would buy thoughtful gifts for cherished relatives and friends, sometimes taking hours to choose the right gift, or sometimes, even make the gift themselves."
Hmmm. Interesting. Go on…
"But today, people are cunts. Selfish, thoughtless, uncaring cunts. They don't really give a shit about anyone but themselves, and certainly can't be arsed to put any thought whatsoever into gifts, even for their closest relatives."
Sounds about right. Tell us more…
"So we have produced our new range of 'Dear cunt, love from your cuntiest friend' range, specially designed for the new breed of cheap, trashy human that shops at Wilko. Now, stingy, inconsiderate wankers who visit our stores can grab one of our crap gifts – without a moment's thought – and give it to their wife, boyfriend, mum, or uncle, knowing full well it will either be regifted, or immediately thrown in the bin.
Better still, because of our 'six-for-three' promotional offer, and the lack of thought that is required to choose the gifts, shoppers can buy our low-quality shit in bulk so as to be prepared for whatever friend or relative's birthday happens to come around next. It's very simple and is proving very popular with our low-grade clientele."
Hang on! Isn't this what B&M has been doing for years?
"Yes. That's where we got the idea from."