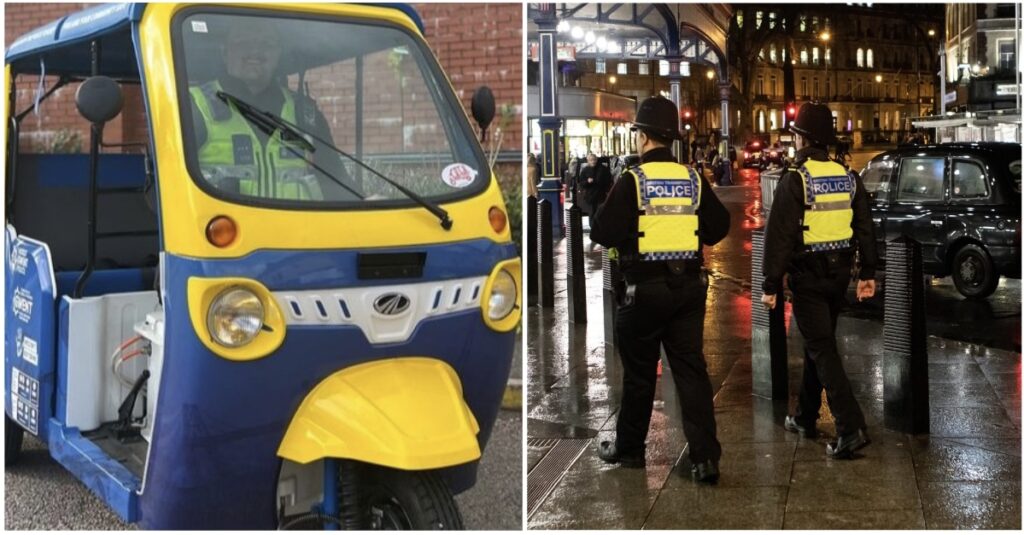 Great Britain, the land of hope and glory! To introduce 'crime fighting Tuk Tuks' onto the streets of our lawless towns and cities.
The birth place of democracy, industry, social security, the train, and Mecca Bingo. Home to Sir Walter Raleigh, Horatio Nelson, Isambard Kingdom Brunel, The S.A.S. Frank Bruno, and Torville & Dean – icons of Great Britishness on whose shoulders giants long to stand.
Tuk Tuks will end the crime
So what better way to undermine that legacy, and destroy what little self respect remains of this once TRULY GREAT island nation of ours.
Is this really the best we can do?
Fly away on my Zephyr
How sad that gone are the days of the Peelers' Ford Zephyrs and Zodiacs zooming across the nation, hunting down pathetic criminals attempting to escape on foot or bicycle. And how distant are the memories of the speeding Rovers and Sierras, blazing on blue lights like crime busting comets, hurtling through the night skies over round about and level crossings in pursuit of terrified cat burglars and glue-sniffing punk rockers?
All that is finished. Over. Like a perfect dream ruined by the un welcome alarm of an involuntary fart.
Sorry Britain
So now, like children leaving Toys'R'Us with an unwanted, overpriced, low-quality, plastic toy ride-on, our once muscular and effectual policemen and women, are reduced to wheeling themselves up and down the litter-strewn pavements of modern. Sorry Britain, dinging a bicycle bell, waving at grown ups, and play acting at law enforcement.
Milkmen may be deterred, but not the sniggering crooks, vandals, drug dealers, gangsters, rapists, and murderers. Who un likely to surrender their substantial speed advantage. Will go about their daily crimes – utterly undeterred.
Not so much Tuk Tuk as Tut Tut.