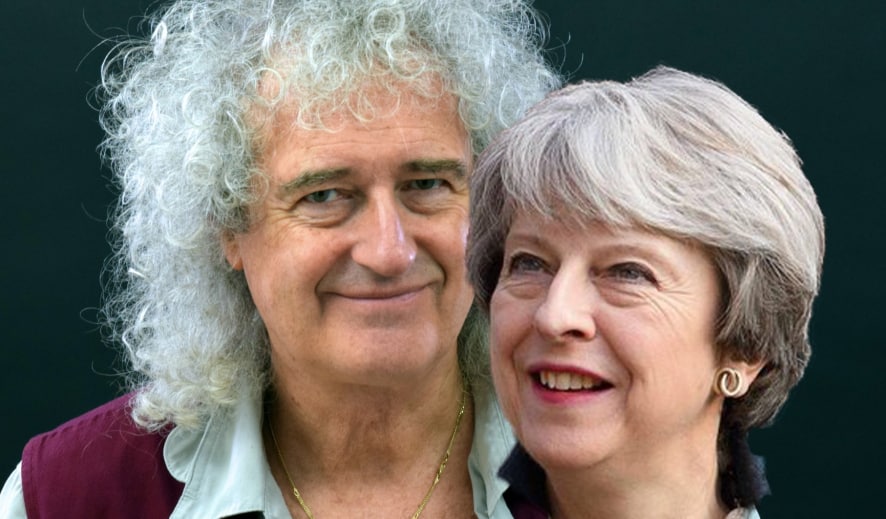 Embattled Theresa May is making a last-ditched attempt to keep her job – by revealing legendary Queen guitarist Brian May is her husband.
The Prime Minister, who saw some success with her "May Bot" dancing, including bopping to ABBA on stage at the Tory conference, thinks her music association will keep her in power.
[AdSense-A]
She has kept her marriage to Brian secret for many years, preferring to use an actor called Philip as her public "husband".
But these are desperate times, with the Brexit crisis threatening to engulf her leadership this week.
A leadership challenge is expected any day.
However, even the most anti-May Conservative is a closet Queen fan, and the Brian May revelation will change everything.
Downing Street insider Lorraine Fisher, 34, said: "It's been the perfect ruse for years. Philip is an actor, and Brian May's supposed wife Anita Dobson is also, as we all know, an actress.
"The arrangement has always worked, but know we need Brian to come to his wife's rescue and save her Premiership."
[AdSense-B]
It is believed the couple have been married for years, and a young Conservative Theresa was the inspiration for many of Queen's biggest hits, including:
Crazy Little Thing Called Gove
I Want to Break Free (from Europe)
We Will Tax You
Under Pressure
Another One Bites The Dust (Universal Credit version)
Seven Seas of Rye (running through wheat fields version)
Save Me
I'm Going Slightly Mad
Flash (featuring Boris Johnson)