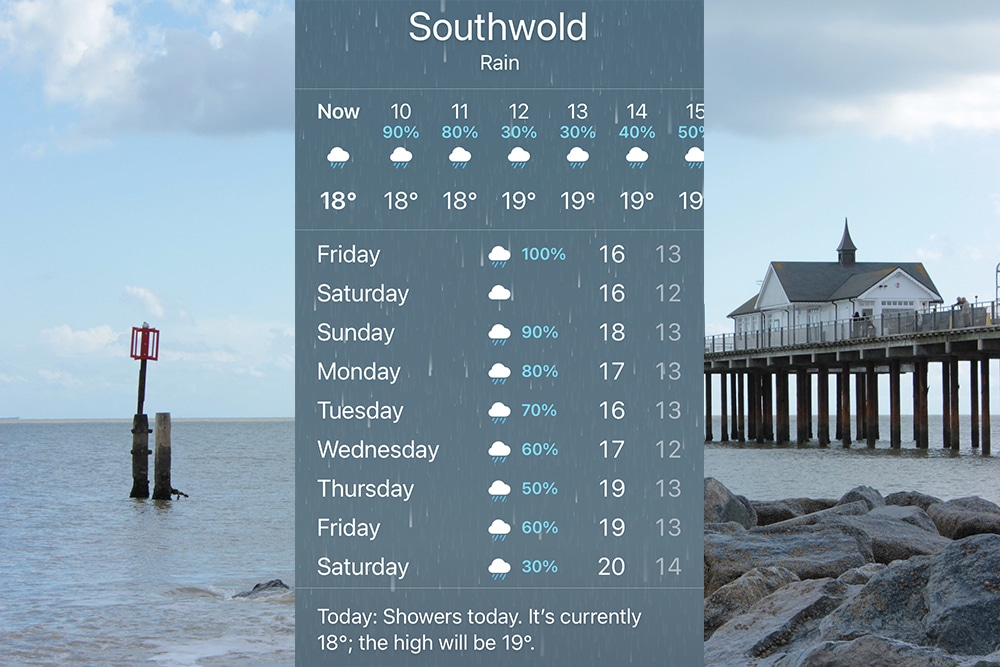 Millions of Brits forced to holiday in the UK are being encouraged to make the most of a dry spell this Saturday.
A pleasant break in the rain is forecast for the Suffolk coast, meaning folks can venture out and see something of the area.
The rest of this week and all of next will be a traditional UK summer holiday washout.
And with indoor COVID restrictions, holidaymakers will either remain in their holiday accommodation or wander around getting wet.
Suffolk Head of Tourism Lorraine Fisher, 34, said: "Saturday does look lovely in Southwold.
"There will be no sun, but at least it won't be pelting down with rain for a few hours.
"That will be the perfect time for everyone to rush out on to the beaches or explore the countryside.
"You can cram a lot into one day, and we feel sure this will make up for not being on the beach in Spain this year."
But holidaymaker Steve Walshe, 43, was not convinced.
"The weather has been quite nice over the past few weeks," he said, "so we decided to go for it and book our staycation, just as the Government has ordered.
"Now it's going to piss down every day."
Cheer up with a mug
At least the Suffolk Gazette mugs make any day sunny. OK, they don't, but we all need cheering up. You can see all the mugs at our sister site Dirty Old Goat mugs online, or view the items below. Our mugs now come with FREE SHIPPING…