Sport
Norwich City sign local brothers to boost promotion-chasing squad
By
|

By Ian Bred, Norfolk Reporter
Norwich City have snapped up two local brothers as manager Alex Neil looks to boost his squad for the second half of the season.
Bubba and Billy Bob Spuckler agreed personal terms at Carrow Road yesterday after Norwich's joint £5,000 bid was accepted by Downham Town FC of the Eastern Counties League.
Norwich owner Delia Smith was delighted with the transfer window swoop, and happily posed with the brothers, who both play as strikers and have become local legends at Downham Market.
Bubba, 27, has scored three goals in 364 starts for Downham Market, while his brother Billy Bob has been even more prolific, netting five times in only 203 games.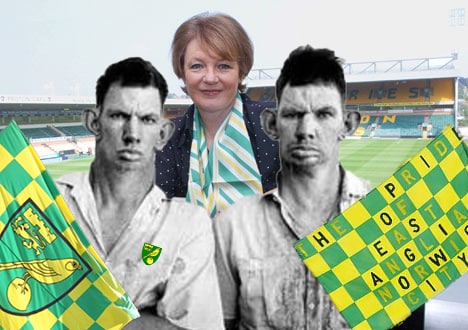 Keeping it in the family: Delia Smith with the Spuckler brothers
Norwich City chairman Ed Balls said: "Our supporters will be doubly delighted – we have made two significant transfer window signings, and they are both local lads. This makes up for the imminent £12 million sale of Robbie Brady.
"And it is brilliant to sign two brothers. We like to think of ourselves as one big family club, and these boys will fit in perfectly."
Neither of the brothers had ever travelled the long distance to Norwich before (40 miles), and were clearly overawed by the experience of being paraded at Carrow Road yesterday – they certainly looked a little pale in the official photographs.
Bubba said: "I live in a small place with my sister and our eight children – they can't wait to come to Norwich to see me play. Do they need a passport to get here?"
Please support my running costs by clicking here and buying me a beer!