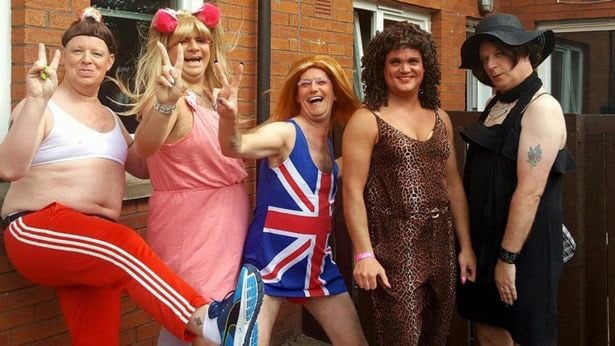 Spice Girls fans say a reunion would be a bad idea because the girls have 'let themselves go'.
The five members of the iconic band met together for the first time since 2012 and confirmed they wish to work on new projects.
Victoria Beckham, Geri Horner, Emma Bunton, Melanie Brown and Melanie Chisholm chatted at Horner's house in Hertfordshire and posed for our exclusive photograph, above.
[AdSense-A]
In a statement they said: "The time now feels right to explore some incredible new opportunities together."
But there is concern that the looks and energy that made them so famous in the first place, when their debut hit Wannabe smashed the charts in 1996, is long gone.
Music industry expert Lorraine Fisher, 34, from Suffolk, said: "The ladies are all older and wiser now, but with age comes a certain change in appearance.
"Sporty Spice is overweight and her gut spills over her trackie, and Posh Spice just looks horrendous. No young girl will want to emulate them now and buy their music."
[AdSense-B]
Onlookers also noticed that Baby Spice had put on too much weight and now looked like Baby Elephant.
But fan Steve Walshe, 43, acknowledged that Ginger Spice still looked "drop-dead gorgeous".
He added: "Looking at your photo, she still has a brilliant body. I absolutely still fancy her."
The girls met along with former manager Simon Fuller.
Their statement continued: "We have enjoyed a wonderful afternoon catching up and reminiscing about the amazing times we have spent together.
"We are always overwhelmed at how much interest there is across the whole world for The Spice Girls."
But as our exclusive photo shows, they will need to do some serious work in the gym before hitting the road once more.
* * * * * *
[wysija_form id="1″]
Join our witty Suffolk Gazette Facebook page community.