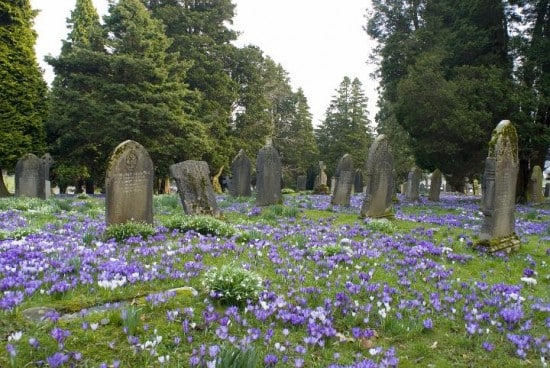 EXCLUSIVE
By Hugh Dunnett, Crime Correspondent
Suffolk Police fear a serial killer is on the loose after discovering 129 bodies in a village graveyard.
The grim find was made in St Wayne and Gary Church in Elmswell, and detectives fear more bodies may turn up.
Officers believe the mass killer followed a sadistic pattern by putting out the bodies in neat rows – then leaving a stone to mark where each one lay.
They say it is too early to say how many of the victims died, as they appear to have been dead for a long time.
At a special press conference planned for later today, Detective Chief Superintendent Noah Cloose will warn all Suffolk residents to stay indoors until the killer is caught.
A force insider said: "We're dealing with the worst serial killer in the county's history. There are already 129 bodies and we expect to find more.
"We were called to St Wayne and Gary Church when a passerby noticed a man acting suspiciously in the graveyard. He was said to be laying flowers by one of the stones – a classic serial killer habit of returning to the scene of a crime.
"We currently have no idea who this man is, but we will put every possible resource into finding him."
He is said to be about five feet six inches tall, with grey, thinning hair, and using a walking stick. He was said to be carrying a copy of the Daily Telegraph.
Vicar Evan Elpuss was devastated by the discovery. He said: "It's normally dead in here on Sunday mornings when I give my sermon, but I didn't expect it to be so bad outside."
One local neighbour, who asked not to be named, said: "This is awful. Nothing like this has ever happened around here before. I have not seen my great-grandparents for a few years, and must now wonder if they are victims of this madman."
Sadly, Suffolk Police will not be able to use its force Apache gunship helicopter to help track down the killer, as it has been mothballed after accidentally blowing up a vicarage in nearby Needham Market.
However, they do now have a fleet of 1970s Ford Cortina squad cars to call on.