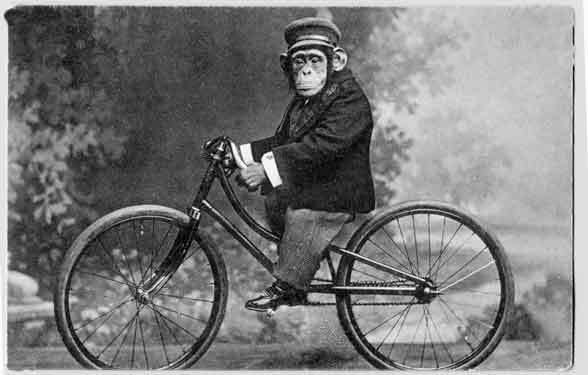 By Bernie Legg, Cycling Correspondent
Norfolk's entry into the Tour of Britain cycle race has finally finished the Suffolk stage – five days late.
Monkey Alan Smith, 18, is the greatest ever cyclist to come out of Norfolk, but he found the tour stage tough going.
[AdSense-A]
Cycling enthusiasts said chimp Alan got lost on the route from Newmarket to Aldeburgh and spent days cycling aimlessly around the isolated country lanes.
Eventually he was given directions to Aldeburgh by a man trimming his hedge near Leiston, and he was able to cross the finish line, even though it had been taken down last week.
A Tour of Britain organiser said Alan's time of five days, seven hours and 23 minutes would still be noted for the record books.
"After his efforts it would be unfair to disqualify Alan," a Tour spokesman said.
"The people of Norfolk should be proud of him for trying, but we would suggest they come up with a slightly better entry for next year's Tour of Britain."
[AdSense-B]
After finishing the course, Alan went straight to the White Hart pub on Aldeburgh High Street.
Because he was so tired out from his efforts he sank six pints of Adnams and got through nine bananas in less than an hour.
After sleeping off the rest of the day on the beach, Alan returned to Norfolk and is now resting back at his home near Downham Market.
He has high hopes of entering next year's Tour de France, which he understands has several testing stages in the mountainous French Apes.