EXCLUSIVE
By Barney McGrew, Framlingham Reporter
Residents have voiced concerns that Framlingham's new fire engine is not up to required safety standards.
The Suffolk Fire Service budget is under extreme pressure, and although Framlingham's fire station remains open, its fire engine was downgraded.
Locals who have seen the new appliance racing around the town have not been impressed. They say they doubt it could cope if a major fire broke out.
And a major Suffolk Gazette investigation has uncovered a host of potentially dangerous faults with the new fire engine, which is rumoured to have cost Suffolk County Council £125,000.
We were shown around the new appliance by a fire station insider who was concerned it has some service issues.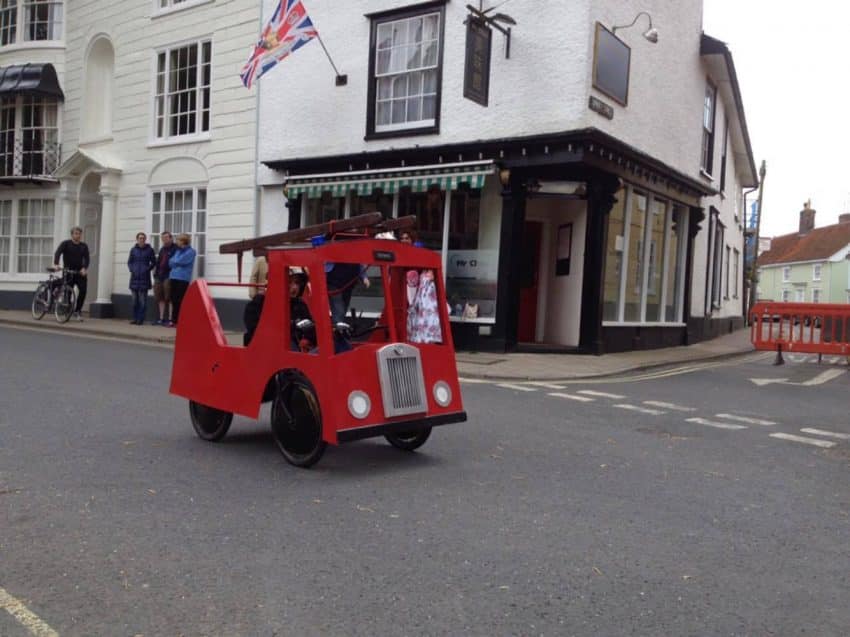 Flaming row: locals argue the new fire engine is not safe
One key problem is that it has a maximum speed of 3 mph, which means response times could be dangerously slow. Also, getting out of Framlingham in a northerly direction – up the hill – would be even slower.
"If a blaze broke out at a farm in Tannington, which is about five miles away, it could take the unit around two hours to get there," said the insider, who asked not to be named.
The next issue our investigation uncovered was that the appliance has just a 30-litre water capacity kept in two plastic buckets, which would make it difficult to tackle anything larger than an oven fire.
And the third major flaw is the rescue ladder, which sits on top of the vehicle. We measured it and found that, even when fully extended, it reached 1.5 metres.
The insider explained: "This could have serious consequences for anyone who does not live in a bungalow."
County council spokesperson Lorraine Fisher, 34, insisted the new fire engine was fit for purpose.
"It's red and has a bell, and will get from A to B eventually. Some people will complain about anything," she said.
Gift mugs here
Buy a cool Suffolk Gazette mug as a gift for a relative or friend, or as a pleasant addition to your own kitchen. Browse all the collections at Dirty Old Goat mugs or buy from one of the items below…