By Casey Jones, Railways Correspondent
It is a force of nature that has brought pain and misery to train passengers for years, causing frustrating delays and even cancellations.
But now Greater Anglia railways has come up with a brilliant scheme to solve the autumnal problem of fallen leaves on the line.
[AdSense-A]
Bosses at the East Anglian rail franchise have hired an elderly man whose only job is to sweep up the leaves on the mainline between Norwich and Liverpool Street station in London.
Derek Smith, 76, from Diss, has been given a high-visibility jacket and a state-of-the-art brush – and is already patrolling the 115-mile stretch of railway
He walks up and down the track by day, sweeping up any errant dead foliage that should fall on the line and cause passing train wheels to slip. And by night he camps in woodland next to the line so he ready to start promptly the next morning.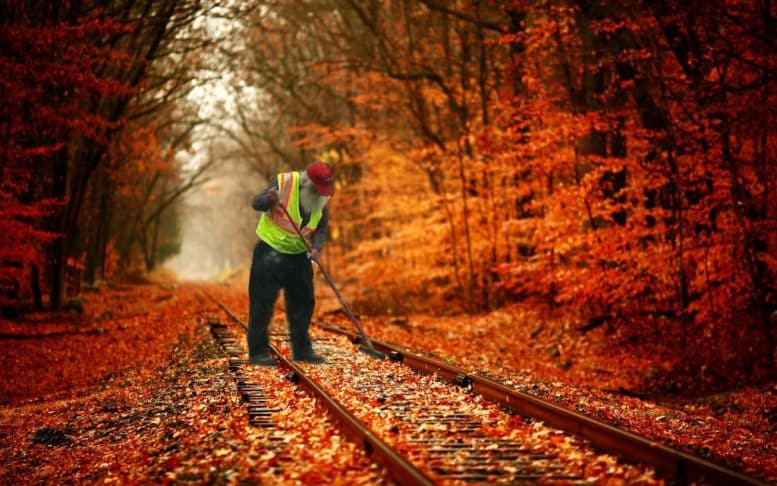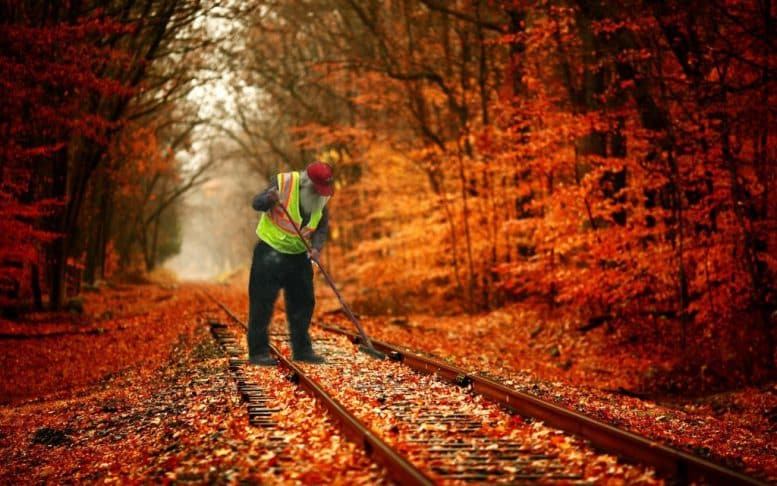 Derek Smith working on the line near Manningtree today
Greater Anglia says he has already proved invaluable, with a spokesman telling the Suffolk Gazette: "We are well into October and the leaves are turning and beginning to fall. Yet we have had zero cancellations so far owing to fallen leaves on the line.
[AdSense-B]
"We employed Mr Smith on a very decent package for a two-month period, and expect our punctuality records for October and November to improve dramatically."
Other rail companies across Britain are taking note of the initiative, and already Virgin trains is advertising for a rail sweeper of its own.
Mr Smith, a retired road sweeper, told us: "It's a dream job. I'm out in the countryside doing what I love – I just have to keep an eye out for approaching trains."