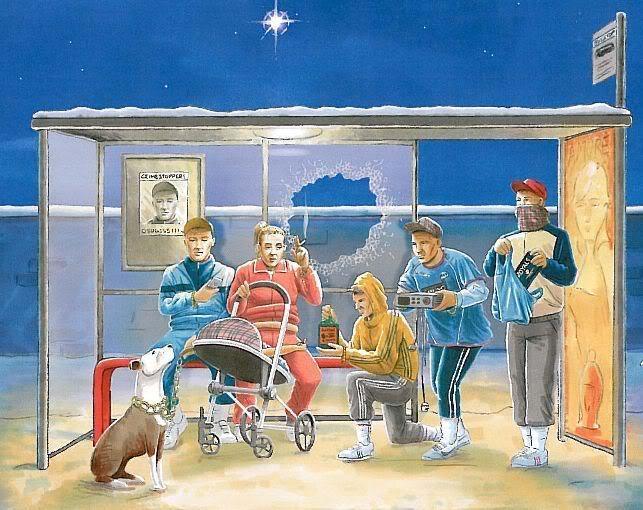 A delightful Ipswich nativity scene is melting the hearts of the nation, serving as a reminder in troubled times that Britain has so much to offer.
Set in a cosy-looking bus stop, the nativity shows three wise chavs presenting gifts of booze, a stolen electrical item and a mystery box – presumed to contain crack cocaine – to baby Jesus in his buggy.
[AdSense-A]
Mum Mary has a fag on, but seems delighted by the men's gesture. It is believed they are being so generous because any one of them could be the father.
Meanwhile, Joseph looks on with keen interest, sitting underneath a photograph of himself that was put up by the friendly folk at the local constabulary.
The happy family's pet pit bull is shown sitting patiently, just before shitting on the pavement.
[AdSense-B]
Artist Lorraine Fisher, 34, said: "This touching nativity really puts Ipswich on the map.
"It's important we all remember the true meaning of Christmas and nicking stuff while getting boozed and drugged up helps us to that perfectly."
Do you know the identity of the "models" posing for the Ipswich nativity? If so, please tell Ipswich Police.
[AdSense-C]